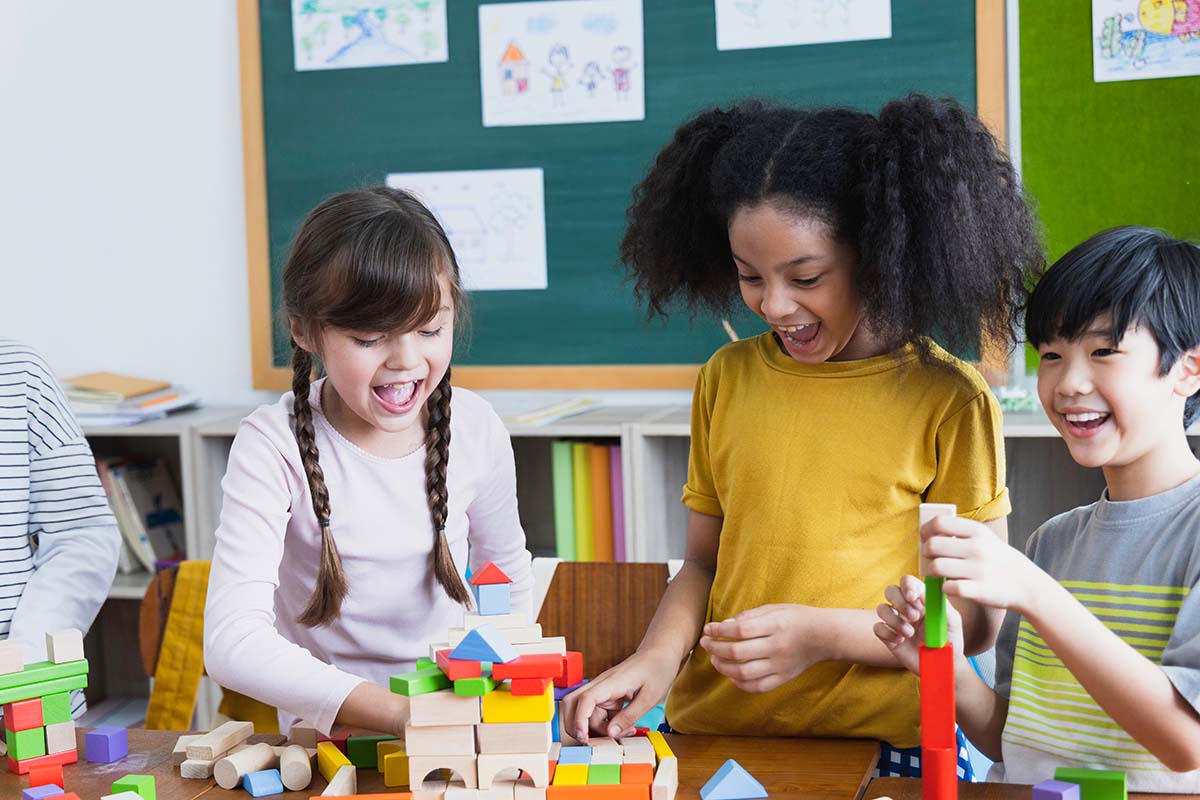 Math can be tough for any child. In the 3rd grade, things get harder and mistakes can be made. To help your child avoid these pitfalls, we're excited to introduce the 'Top 3 Common Math Mistakes and How to Avoid Them' series. Teacher Julius from the Spark Math by Spark Education teaching team is here to share excellent tips to prevent careless math errors. Read on to learn more about the 3 common 3rd grade math mistakes and how to avoid them!
At the 3rd grade level, the world of math starts to expand. Children will learn more complex math topics, such as multiplication and fractions. They are also expected to do math with higher accuracy and precision, like telling time to the minute. It is crucial that 3rd grade students are able to make use of the skills they've learned in grade 1 and grade 2 to avoid making careless mistakes.
Common Mistake 1: Addition and Subtraction of Fractions
In 3rd grade, students will learn how to add or subtract unlike fractions for the first time. Unlike fractions are fractions with different denominators, such as 3/4 and 5/8. They are different from like fractions, which are fractions with the same denominators, such as 3/7 and 6/7.
While the two types of fractions appear to be similar, performing addition and subtraction on like and unlike fractions require different methods. Grade 3 students may not be aware of this and treat unlike fractions in the same manner as like fractions, leading to careless math mistakes.
Common Mistake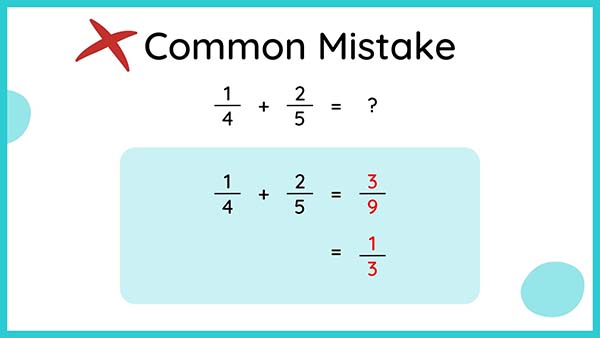 Solution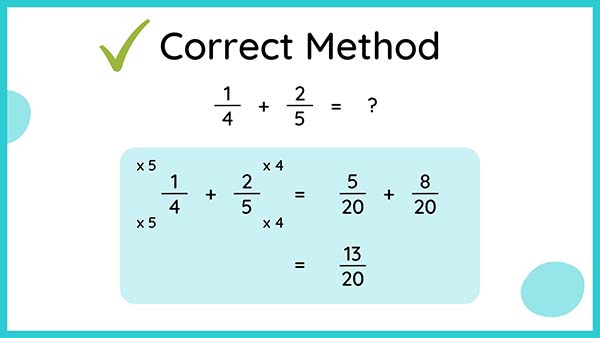 How to prevent this mistake
It is important that students understand what like and unlike fractions are and how to identify them. When attempting a fraction question, one of the first things students should do is to quickly scan through the question, identify the types of fractions and make a mental note if unlike fractions are present.
One essential tip that students should always remember is to make sure the denominators are the same before they start adding or subtracting fractions.
Common Mistake 2: Adding and Subtracting Time
Time-related questions are not new to 3rd grade students. They have learned about time in 1st and 2nd before. They should also have mastered reading the clock and moving the hour hand or minute hand. P3 takes time-related questions a step further. Kids are expected to be able to differentiate between a duration such as 5hr 20min and a time such as 5:20 PM. They must also calculate the differences in time and keep all of these operations separate.
Common Mistake
Students who are careless will get stuck on this question. They either forgot to show that 70 minutes is made up of 1 hour and 10 minutes or were not sure how they could proceed with the question. This leads them to add 2 h 70 min to 4.15 p.m., which gives them 6.85 p.m. as the answer.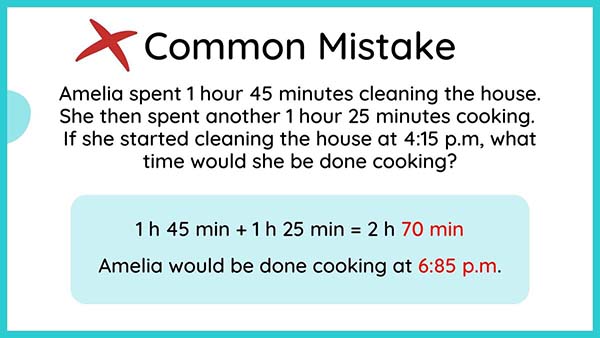 Solution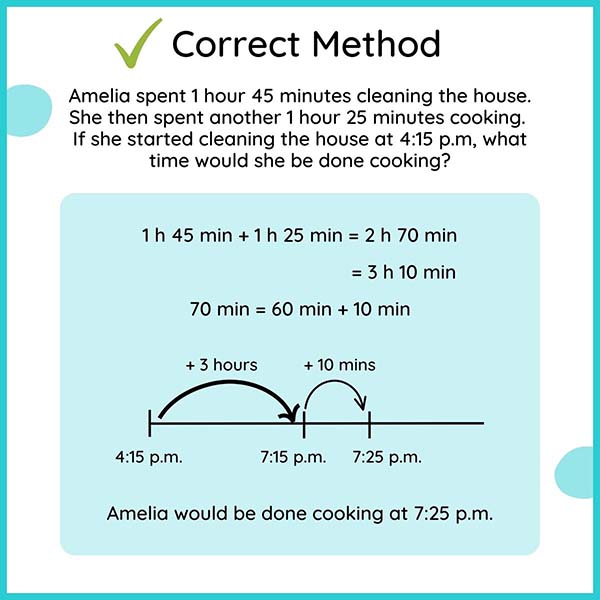 How to prevent this mistake
For time-related questions, students need to know time and time duration concepts. Students should take special care when writing units and presenting their workings clearly. For the above question, students can better break down the question and gain clarity using the timeline format to visualize time and time duration.
Common Mistake 3: Understanding and Interpreting Word Problems
When it comes to word problems, it is essential to understand what the question is asking for. Students can only work towards the correct answer if they properly interpret the question.
Common Mistake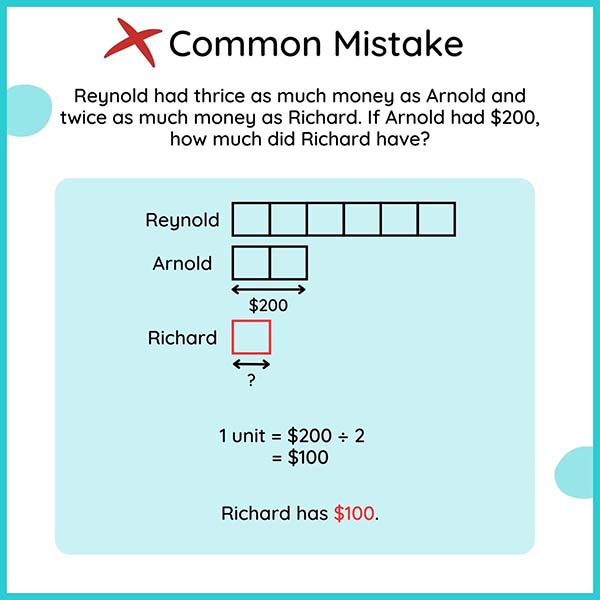 Students need to read the problem carefully. Some students may see the word "twice" and allocate 2 units for Arnold and 1 unit for Richard. However, the person that has "twice as much money as Richard" refers to Reynold, not Arnold. Hence, Richard should have half the number of units as Reynold, which is 3 units.
Solution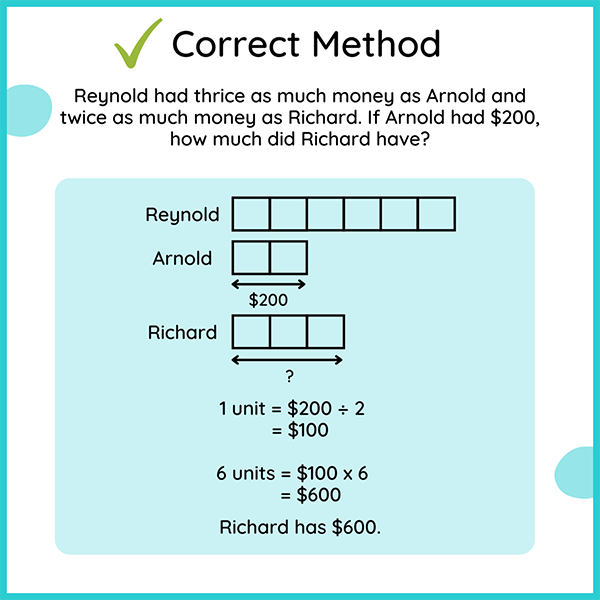 How to prevent this mistake
The key to solving word problems, apart from the strategies, is the ability to dissect questions sentence by sentence and work out what's needed. Students should read every sentence carefully and understand the concepts present before they start solving the question.
Here, terms such as "twice" also play a big part in this question. Students need to familiarize themselves with the wording and understand how the wording can be presented as equations.
A has twice as many apples as B

A's apples = B's apples x 2
Students need to know that in this case, 'A' that comes before the word 'twice' is the person that has the bigger amount as compared to 'B'. A similar wording that expresses the same meaning is "A has two times as many apples as B".
Another similar term students can take note of is "thrice", which means "three times".
Overcome mistakes and become a math ace with Spark Math!
As students reach higher levels, they learn more math topics at a more complex level. It can become easier to make mistakes, and students have to pay attention to more details. Most importantly, by knowing the common mistakes that they may make for certain topics or types of questions, students can take steps to avoid making them. Get a head start on overcoming mistakes with these tips, and students can strive to be the math ace they aim to be!
At Spark Math by Spark Education, children can look forward to an immersive and fun experience where they learn math through play! There's a variety of animation, engaging storylines, and gamification elements to enrich the learning experience. Interested in snagging a free trial class for your child? Sign up here and start your child's math journey today.
Check out these other articles in our "Common Math Mistakes and How to Avoid Them" series:
Kindergarten – 1st Grade – 2nd Grade – 3rd Grade – 4th Grade – 5th Grade