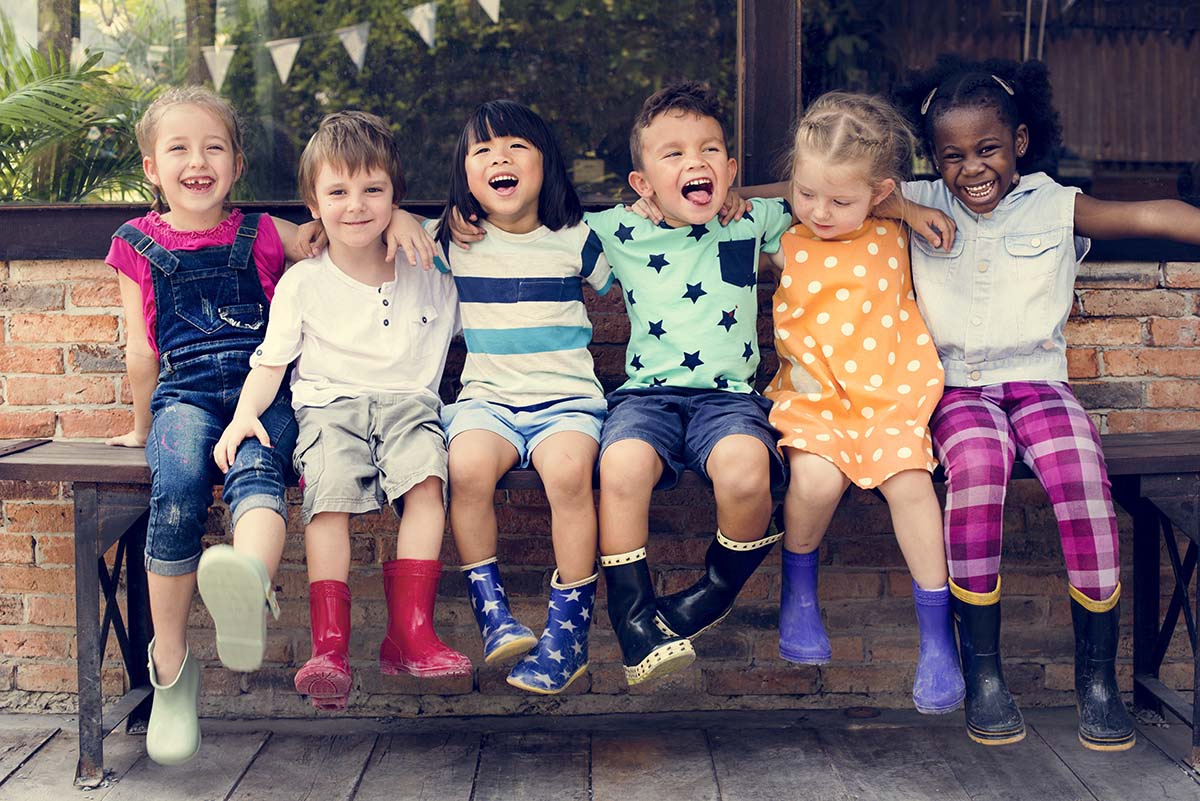 Common math mistakes can hurt even the best students test scores. To help your child as they build the foundation for elementary school math, Spark Math started the "Top 3 Common Math Mistakes and How to Avoid Them" series to share some of our teachers' tips and tricks on preventing careless errors. We asked our excellent, in-house Spark Math teachers to share what they've observed over their teaching careers. To help kids avoid these mistakes here's our Spark Teacher Elizabeth's "The top 3 common Kindergarten math mistakes and to avoid them!"
Kindergarten marks the last year of preschool for little ones moving to primary school next year. Some parents may be concerned about how their child will cope. To help prepare children for the transition, it will help to build a strong math foundation and keep an eye out for any careless mistakes they may make. Starting early ensures that your child corrects their mistakes before those mistakes graduate with them to primary school.
Common Mistake 1: Creating a pattern that doesn't repeat
Working with and solving patterns is one of those important early skills that young learners need to master. Kindergarten students may have difficulty recognizing and extending patterns, especially for complex patterns that involve multiple attributes. They end up creating a pattern that doesn't repeat, or that doesn't follow a consistent rule.
Common Math Mistake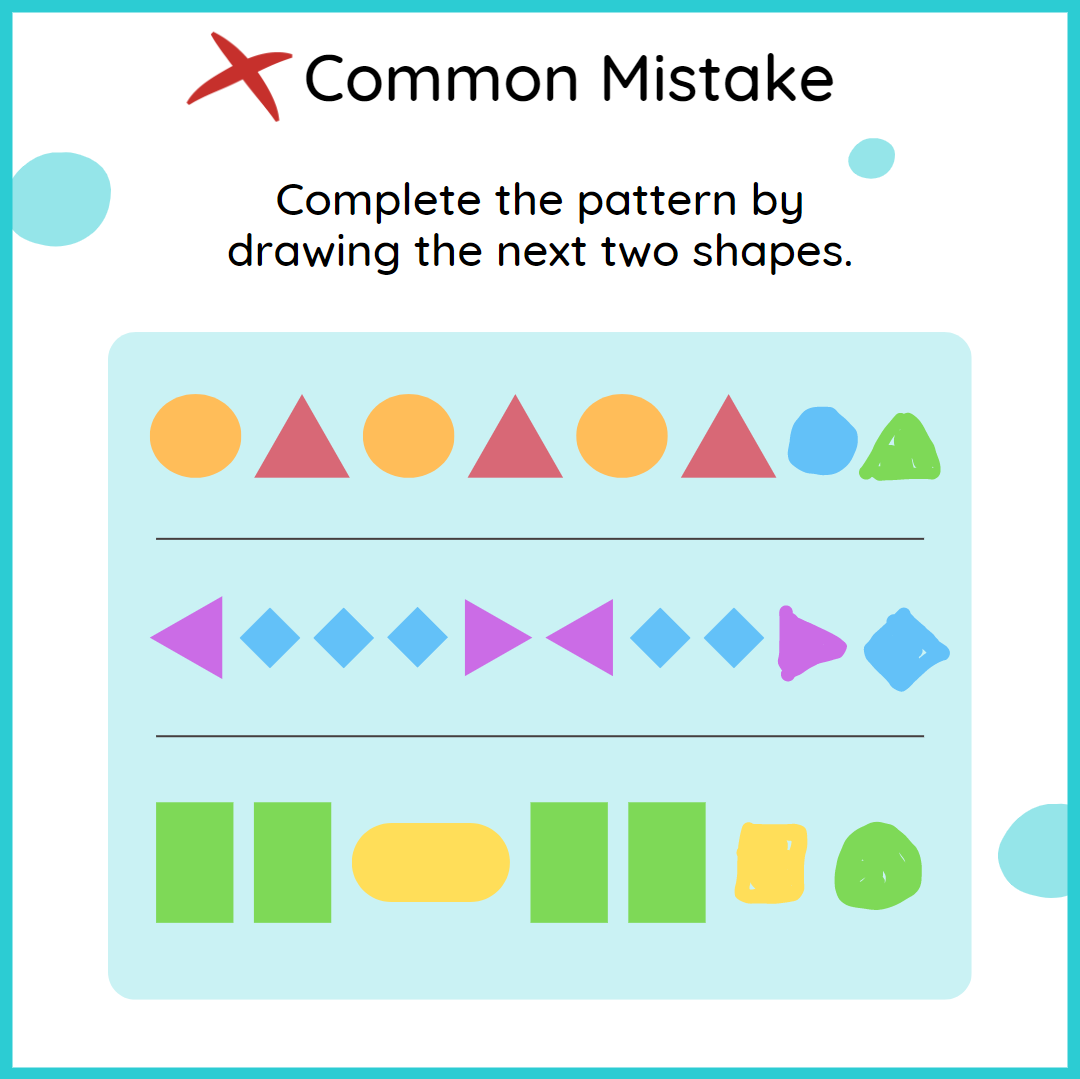 Solution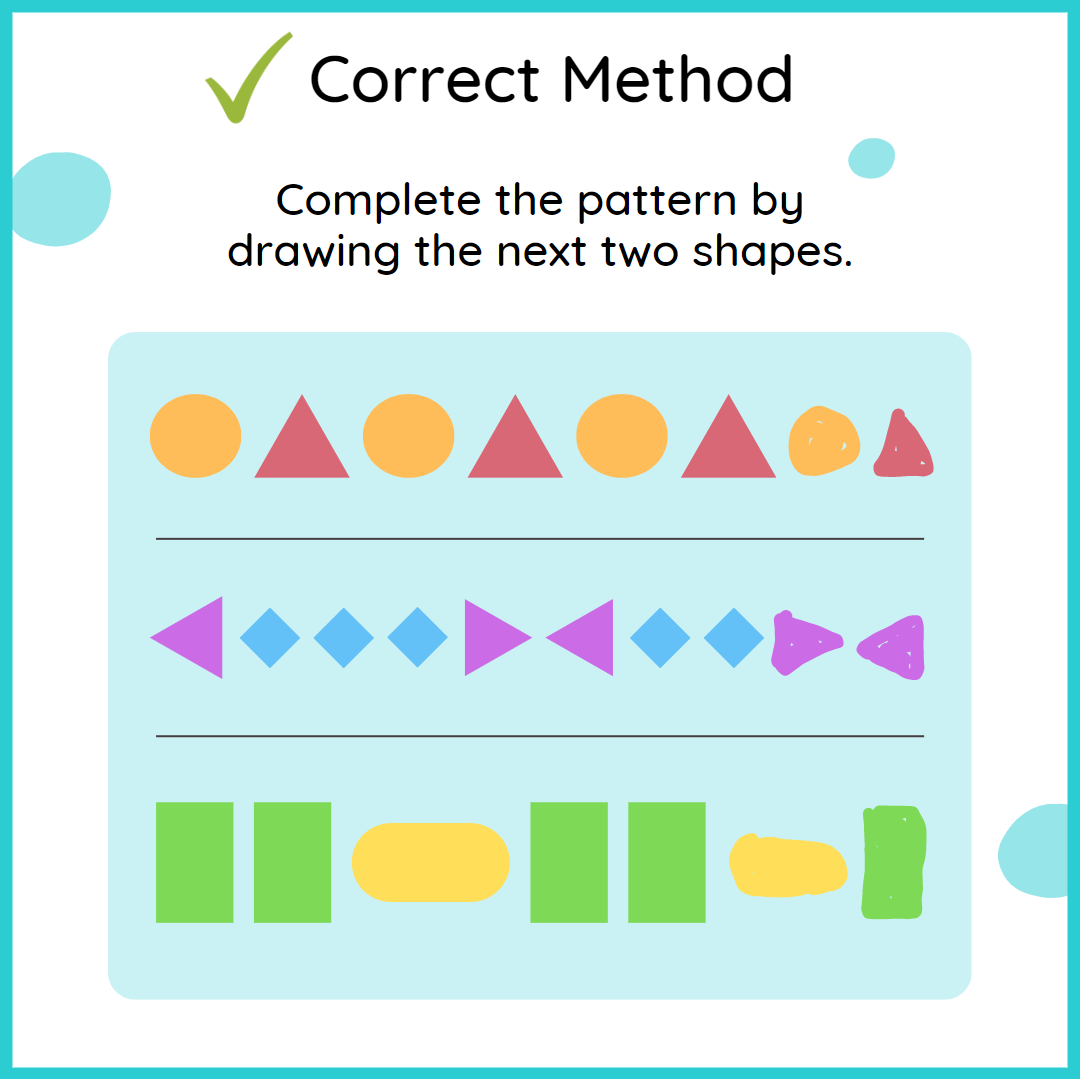 How to prevent this mistake
Young learners may find it hard to visualize the pattern or consider all the multiple attributes in their answers. To help them, here are some simple and engaging ways to teach patterns:
Start with simple patterns: Begin with simple patterns that involve only one attribute, such as color or shape. This will help students understand the basic concept of patterns before moving on to more complex ones.
Use manipulatives: Use manipulatives, such as blocks, beads, or buttons, to help students create and extend patterns. This will allow them to see and touch the objects, making it easier to understand the pattern.
Use music and movement: Incorporate music and movement into pattern activities to make them more engaging and memorable. For example, have students clap or stomp in a pattern or use a song with a repeating melody. This is also a fun way for parents to bond together with their child while learning patterns!
Once students are comfortable with creating and identifying patterns, challenge them to extend the pattern using their own creativity and imagination.
Common Mistake 2: Confusing Addition and Subtraction
Kindergarten students may have difficulty distinguishing between addition and subtraction. They may also struggle with understanding the concept of "adding" or "subtracting."
Common Math Mistake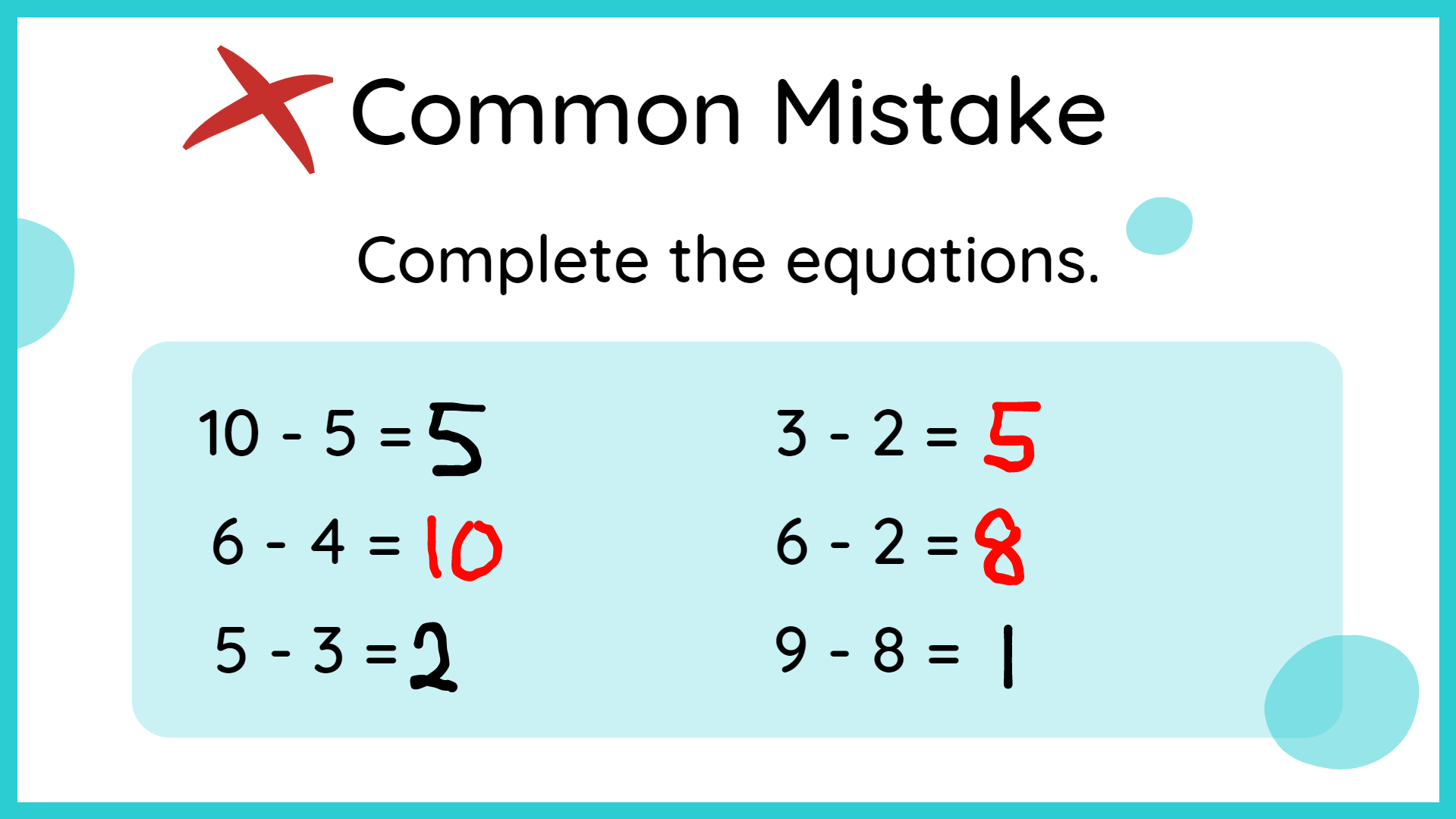 Solution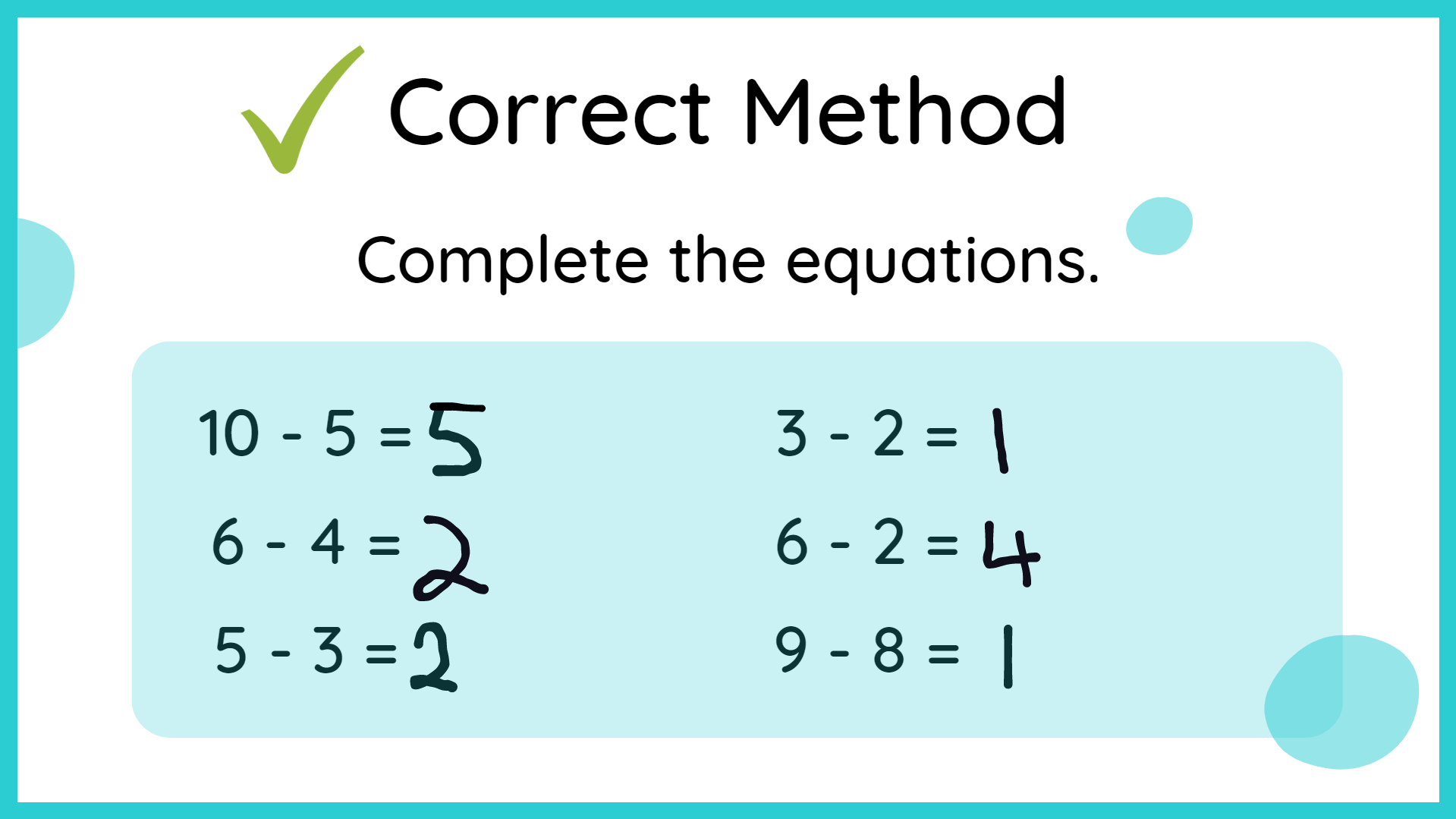 How to prevent this mistake
As addition and subtraction are new concepts that Kindergarten students are learning, they will need time and practice to master them. To give them a boost, parents can try the following ways:
Explain the concepts using simple language: Use simple and concrete language when explaining the concepts of addition and subtraction. You can use phrases such as "adding more" and "taking away" to make the ideas easier for children to understand.
Use visual aids: Young children often learn better through visual aids, so try using pictures, objects, or manipulatives to help them understand the concepts of addition and subtraction. For example, you can use blocks or toys to demonstrate adding and taking away.
Use real-life examples: Use real-life examples that children can relate to, such as adding and subtracting items in a grocery store or counting the number of apples in a basket.
Common Mistake 3: Inability to recognize shapes in different orientations
Kindergarten students may not yet understand that shapes can be oriented differently and still be the same shape. For example, they may not recognize a square that is tilted or rotated, or they may not recognize that two triangles can be arranged to make a square.
Common Math Mistake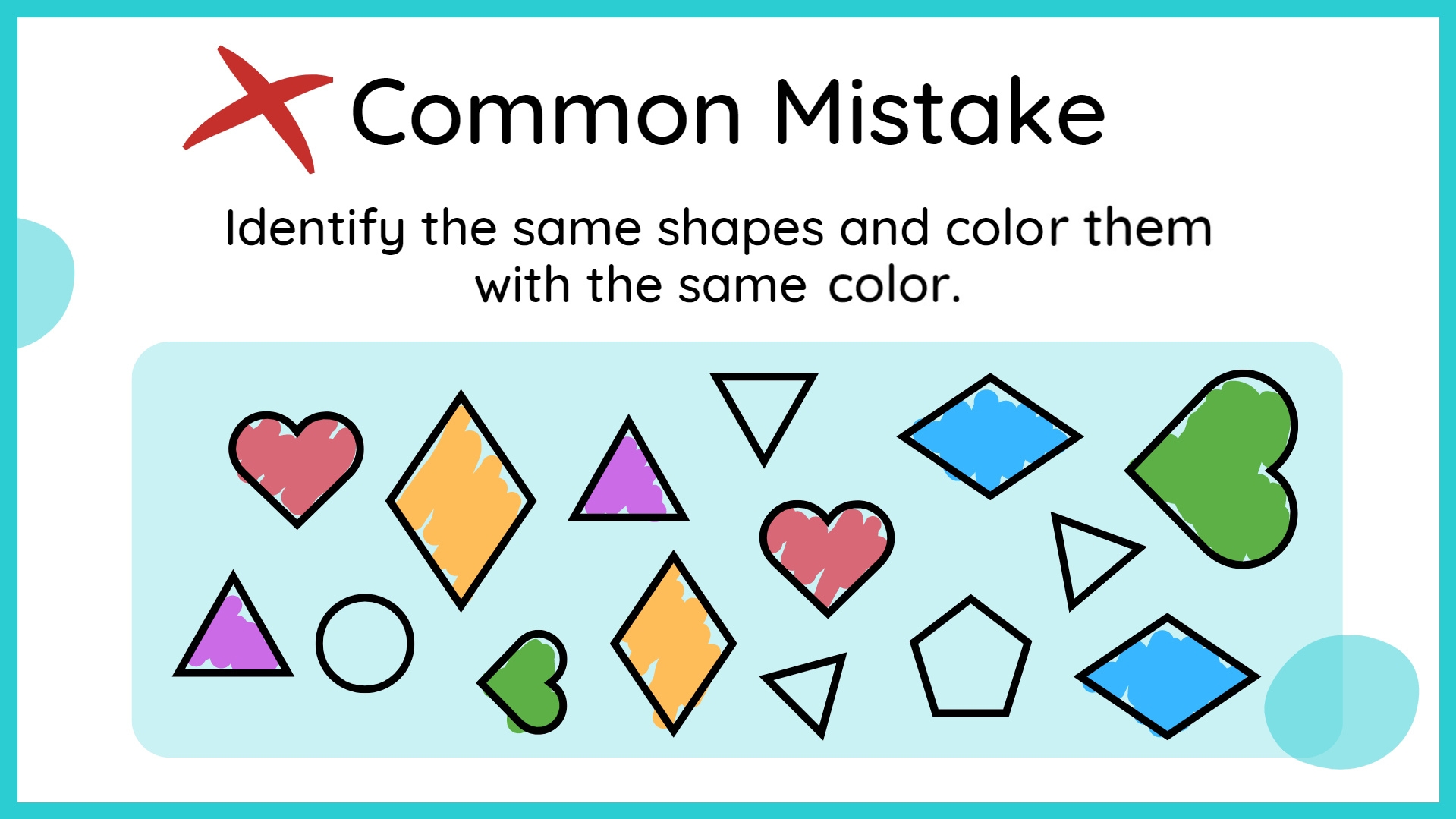 Solution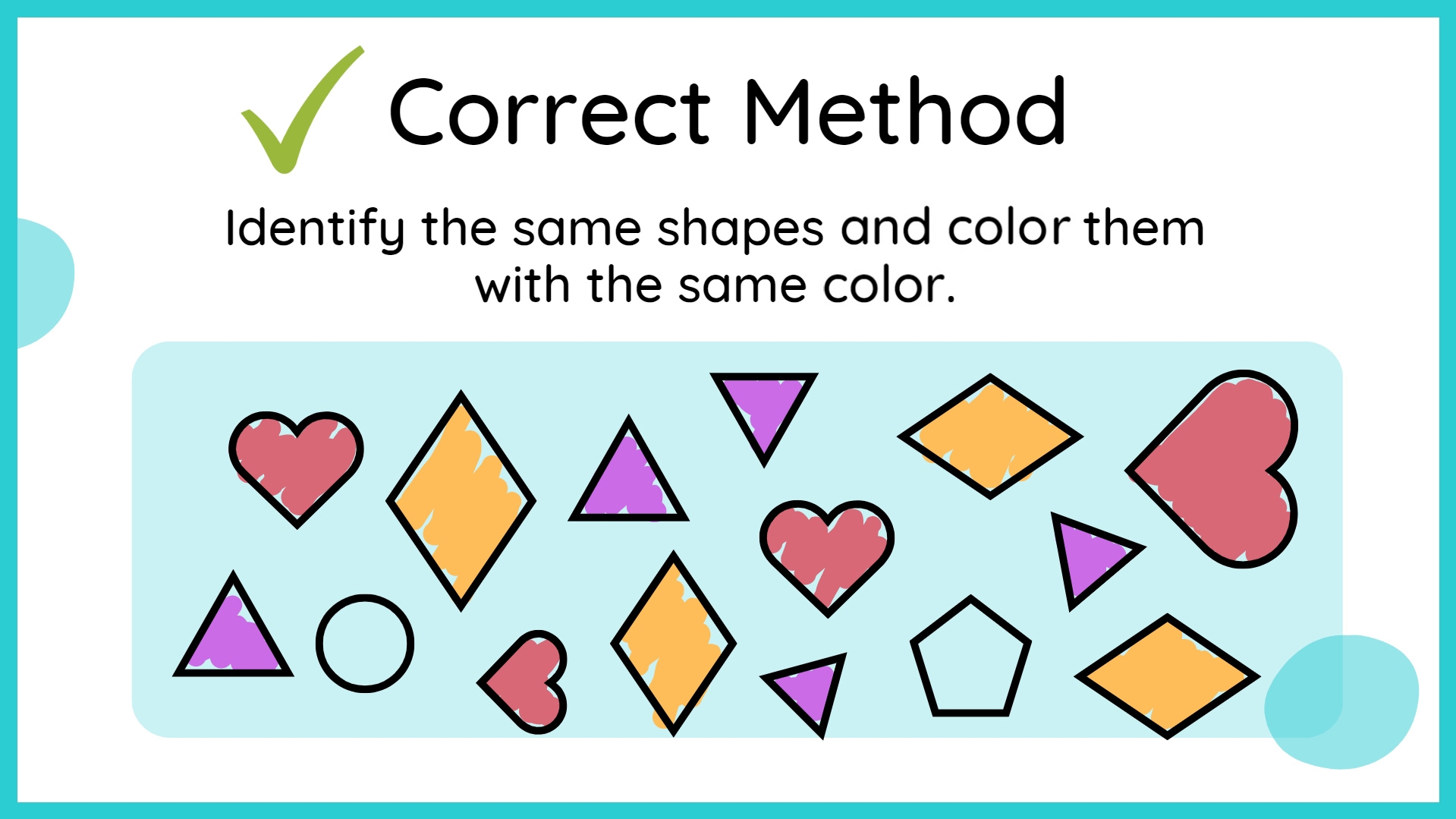 How to prevent this mistake
Try out some of the methods below to teach your child the basic shapes and get them familiar with the different orientations:
Use visual aids: Use pictures, charts, posters, and flashcards to show the different orientations of shapes. Show how a square can be positioned in different ways, and how a triangle can be rotated to change its orientation. Use different colors to highlight the different sides and angles of the shapes.
Provide hands-on activities: Give students manipulatives such as pattern blocks, tangrams, and Geoboards. Encourage them to explore and manipulate the shapes in different orientations. Provide challenges such as "Make a rectangle with two squares" or "Make a triangle with three different shapes".
Encourage observation and comparison: Encourage students to observe shapes in their environment, such as signs, buildings, and objects. Ask them to compare the shapes they see and point out the differences in orientation. This can help students develop spatial awareness and recognize shapes in different orientations.
Common Kindergarten Math Mistakes and Spark Math
Kindergarten is the perfect time to cultivate your little one's curiosity and interest in math. Take the chance to go through math concepts with them to help deepen their understanding. It's normal for them to make mistakes as they learn something new, and parents can take this chance to support students as they move forward in their math journey.
At Spark Math by Spark Education, children can look forward to an immersive and fun experience where they learn math through play! There's a variety of animation, engaging storylines, and gamification elements to enrich the learning experience. Interested in snagging a free trial class for your child? Sign up here for a free trial class and start your child's math journey today.
Check out these other articles in our "Common Math Mistakes and How to Avoid Them" series:
Kindergarten – 1st Grade – 2nd Grade – 3rd Grade – 4th Grade – 5th Grade