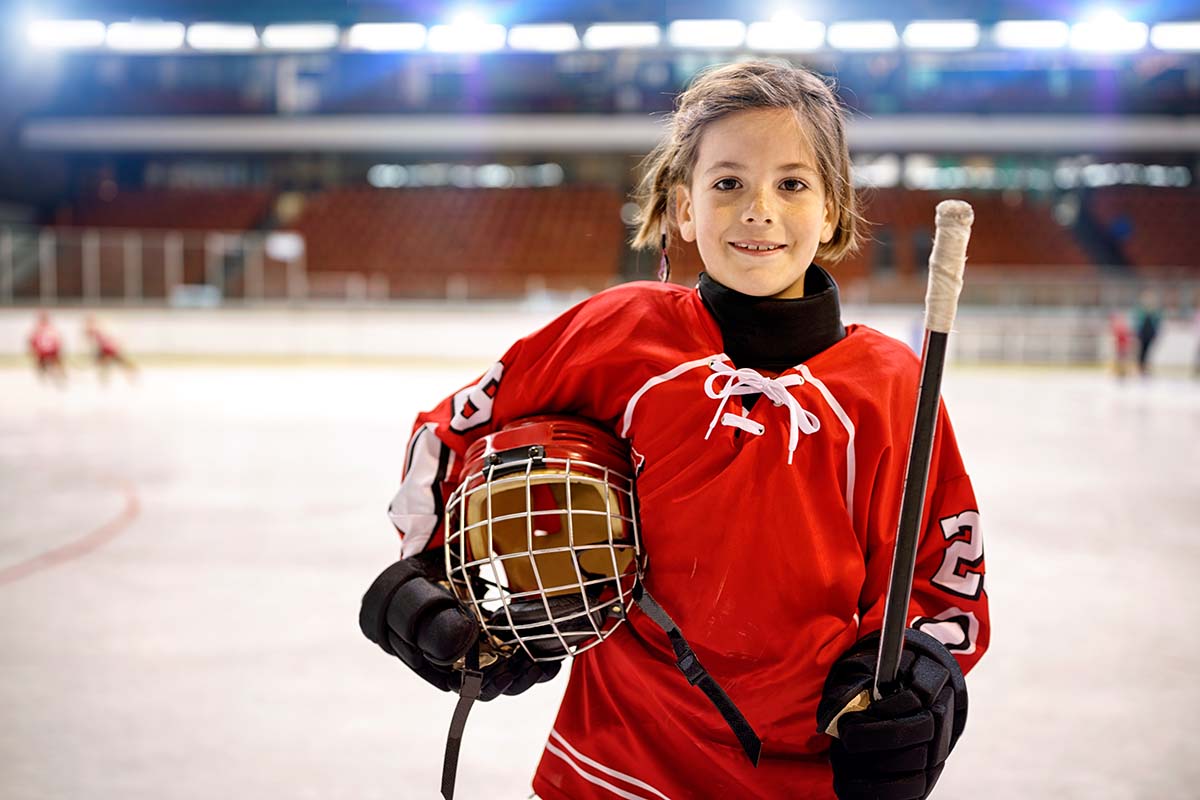 Let's meet at Center Ice for a math sports faceoff! This is Spark Math by Spark Education's Math in Sports series featuring hockey! As the National Hockey League (NHL) makes its return to the ice, we thought it would be an opportune time to take a slapshot at the math behind hockey. The Math in Sports series is our way of helping parents tie math to their children's favorite sports hobbies. With that said, let's gear up for a Math Power Play with "Math in Sports: Hockey and Math for Kids!"
Quick Hockey Overview
For our readers in warmer climates with no ice or those that just don't follow the game, hockey is a fast-paced contest between two opposing teams of 6 players each. Games are conducted in ice rinks, with players sporting pads, helmets, gloves, ice skates, and hockey sticks. Teams fight to control a small black object called the puck with the goal of scoring it in the other team's goal. Each team has a goaltender that has a larger hockey stick and specialized glove to stop the puck from going in his net.
Hockey is a highly physical sport that requires strong teamwork and lightning fast reflexes. A slapshot from a professional hockey player is about 100mph (161kph). Now that you know the basics, let's skate into the math!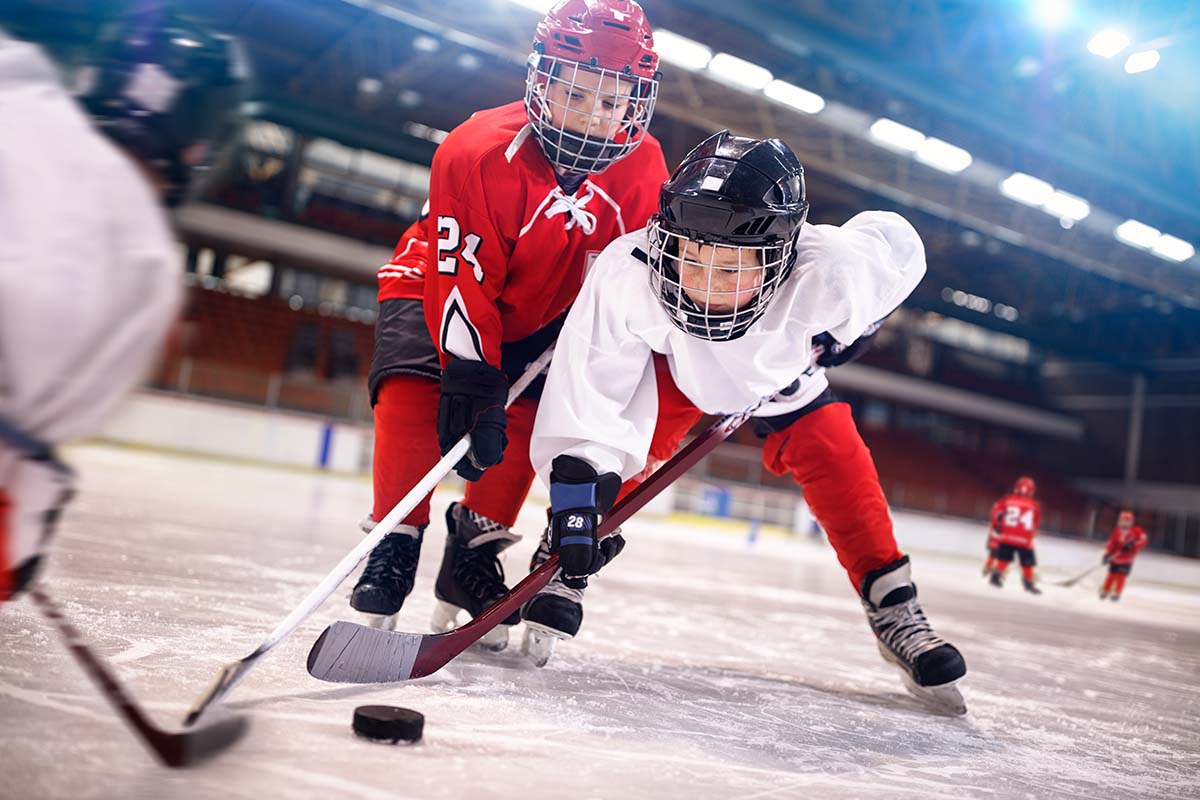 Offensive Hockey Math
In hockey, offensive stats usually revolve around goals, assists, points, and shots.
Goal: A shot by the offensive player resulting in a score
Assist: Passing the puck to another player who then scores
Points: This stat combines goals and assists
Shots: The number of shots at the goal by player
Shots on Goal and Shooting Percentage
Shots on goal are crucial to winning a game. Simply, if players aren't getting chances to score their team can't win. Just as important is how many of those shots on goal are actually going in. This is where we see shooting percentage. Today we will look at the shots on goal and shooting percentage of leaders in the respective categories for the 2022-2023 NHL season: David Pastranak of the Boston Bruins and Andrei Kuzmenko of the Vancouver Canucks. Pastrnak led the league in shots on goal, while Kuzmenko led in Shooting percentage.
What Math You Will Need
Addition
Division
Multiplication
For Shots on Goal we would follow these steps. Use Addition to add together the number of shots on goal taken each game to get the season total.
Pastrnak took 407 shots on goal and Kuzmenko took 143 shots on goal in 2022-2023 season
To calculate Shooting Percentage we use Division and Multiplication. We divide the number of goals made by shots on goal and then multiply the answer by 100 to reach a percentage
Pastrnak: 61 goals/407 shots on goal = 0.1498 x 100= 14.98% Shooting Percentage
Kuzmenko: 39 goals/143 shots on goal= 0.2727 x 100= 27.27% Shooting Percentage
From this information, we can see Kuzmenko is a much more efficient scorer while Pastrnak has a lot more time with the puck but may be taking lower quality shots.
Points
Points looks at both goals and assists. This stat can reveal a lot about a player. A player with a lot of assists by a low point total might suggest he isn't a great scorer. While a player with a high point total is a big contributor to the offense.
To calculate points you will need Addition
Connor McDavid of the Edmonton Oilers led the NHL in points for the 2022-2023 season. Let's see how we got there. We need his number of goals (64) and assists (89).
64 Goals + 89 Assists = 153 points.
Guess who the MVP of the season was? That's right, Connor McDavid!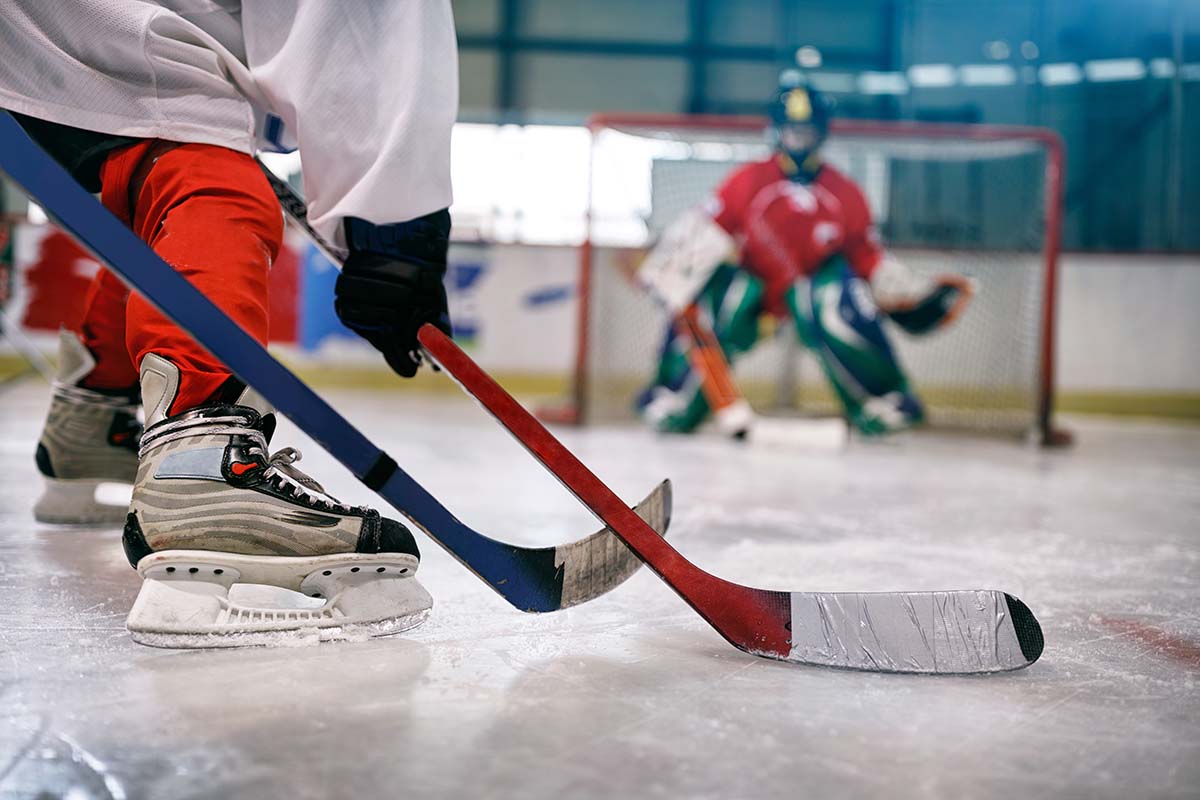 Defensive and Goaltending Hockey Math
While the offense might be glory hogs, champions are forged by defenders and goaltenders too. Here are some key concepts it would be helpful to know.
Takeaways: When a defensive player steals the puck away from an opposing offender
Blocked Shot: When a defensive player stops a shot on goal
Save: When a goalie stops a shot on goal
Takeaways Per Game
This is a quick way to see how aggressive a defense is and their success at taking possession of the puck. It also spreads the data across multiple games in the form of an average to help even out outliers in the data.
For this we need
The Montreal Canadians had the best defense in terms of takeaways in the season.
First, we will add the takeways over 82 games to get 511 total takeaways
We divide 511 takeaways/82 games and we get 6.24 takeways/game.
Penalty Kill Percentage
In hockey, players can be taken off the ice as a result of a penalty. That gives the other team a 1 player advantage for a short time, this is called a Power Play. Penalty Kill Percentage refers to a team's ability to prevent a goal from being scored while the other team has a power play
For this we will need:
Addition
Division
Multiplcation
We need to add together the number of penalities resulting in a power play a team received and compare it to how many goals were scored during those power plays.
The Boston Bruins were the best team in 2022-2023 when it came to Penalty Kill Percentage
Adding up the total penalties gives up 359. The Bruins held strong on 315 of those penalities
315 stops/359 = 0.879 x 100 = 87.9% Penalty Kill Percentage. Not so coincidentally, the Bruins were a stellar team with a great record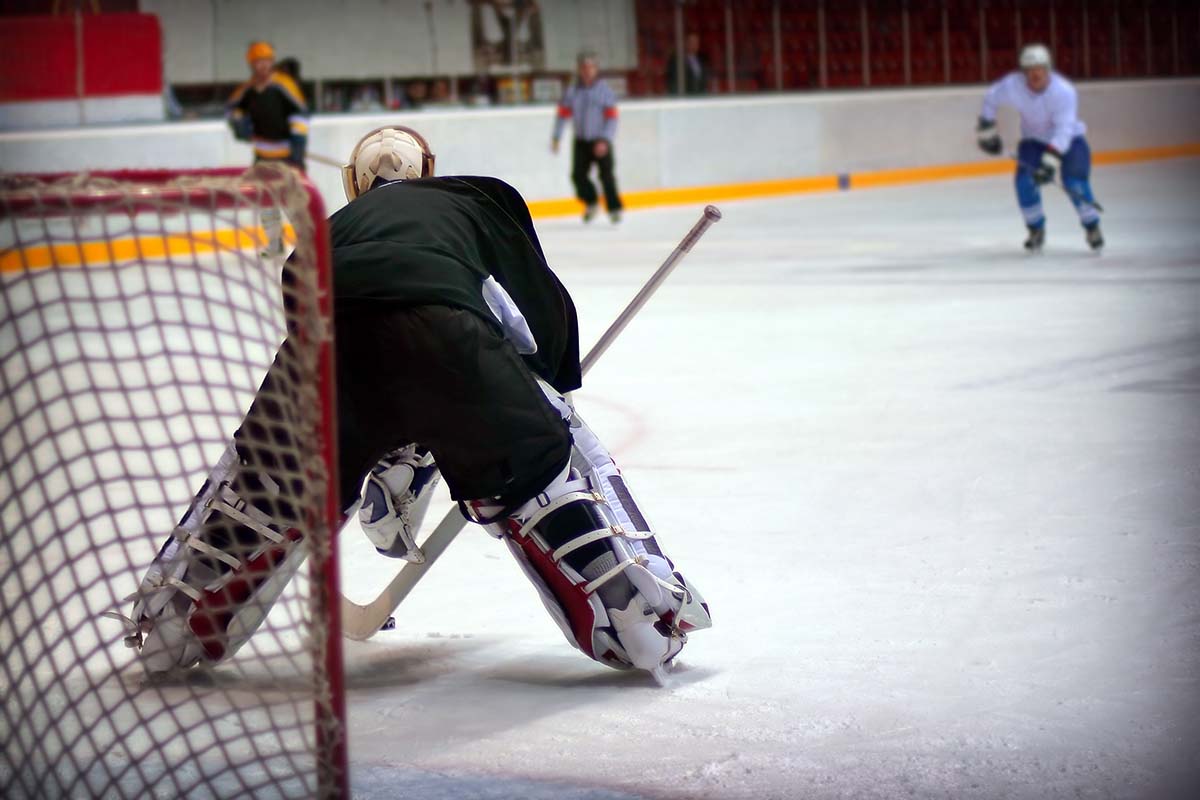 Goalies: Save Percentage and Goals Against Average
The goaltender is the last line of defense and is tasked with stopping 100mph slapshots with his trusty glove and stick. A successful goalie has a strong save percentage and goals against stat line. Save percentage measures out of how many shots on target the goal saves. Goals against is a simple measure of how many shots a team lets in a game.
Save Percentage
You will need:
Addition
Division
Mulitplication
First we will use addition to add up the total number of shots on a goal and saves by a goal. For this we go back to Boston for their keeper, Linus Ullmark.
Ullmark made 1366 saves out of 1457 shot attempts
1366 saves/1457 shot attempts=0.938 x 100 = 93.8% save percentage
Goals Against Average
You will need:
Linus Ullmark again showed he was a total powerhouse between the pipes last year with the best goals against average.
Use addition to add up to the total number of goals he gave up which is 91. We also need his games played which is 48
Divide 91 goals/48 = 1.89.
He is the only goalie last year with a goals against average of less than 2
Score on your next math test with Spark Math!
Hockey is a blast to watch and has become more popular in recent years. If you have a hockey fan in the family, try getting them working on their favorite player's stats using some of this math. If you are looking for more math fun that can keep your child engaged and learning, check out Spark Math. Book a free trial class today for the most fun and effective way to math success.
Love sports and math? See our other Math in Sports blogs here.