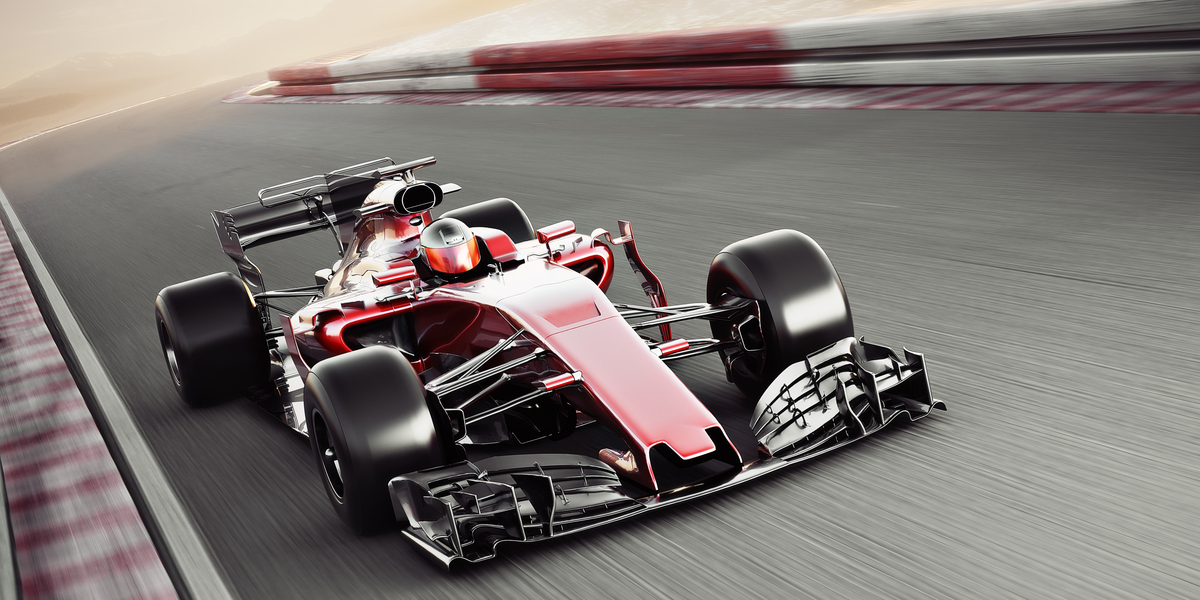 After a record-high attendance of 302,000 fans at the event last year, the Formula 1 Singapore Grand Prix is making a return from 15 to 17 Sep 2023. This year, we'll be seeing the likes of drivers such as Max Verstappen, Lewis Hamilton, 2022 Singapore Grand Prix Winner Sergio Pérez, and more returning.
The Singapore Grand Prix is the 15th race in the 2023 Formula One World Championship, which consists of 22 Grands Prix held around the world, starting from March and ending in November. This weekend, the global motorsport will see drivers go wheel-to-wheel in a riveting night race at the Marina Bay Street Circuit.
A Formula 1 race is always a thrill to watch. But behind the scenes, do you know that many factors play a part in determining race performance and results? From temperature to tyre wear, metrics, data analysis and math is essential in this highly competitive sport. Behind every car, there is a dedicated team working together to calculate data and finding ways to improve their performance.
Read our next entry Spark Math's sports series "Math in Sports: Race Car Math for Kids" to get up to speed on important calculations for Formula 1!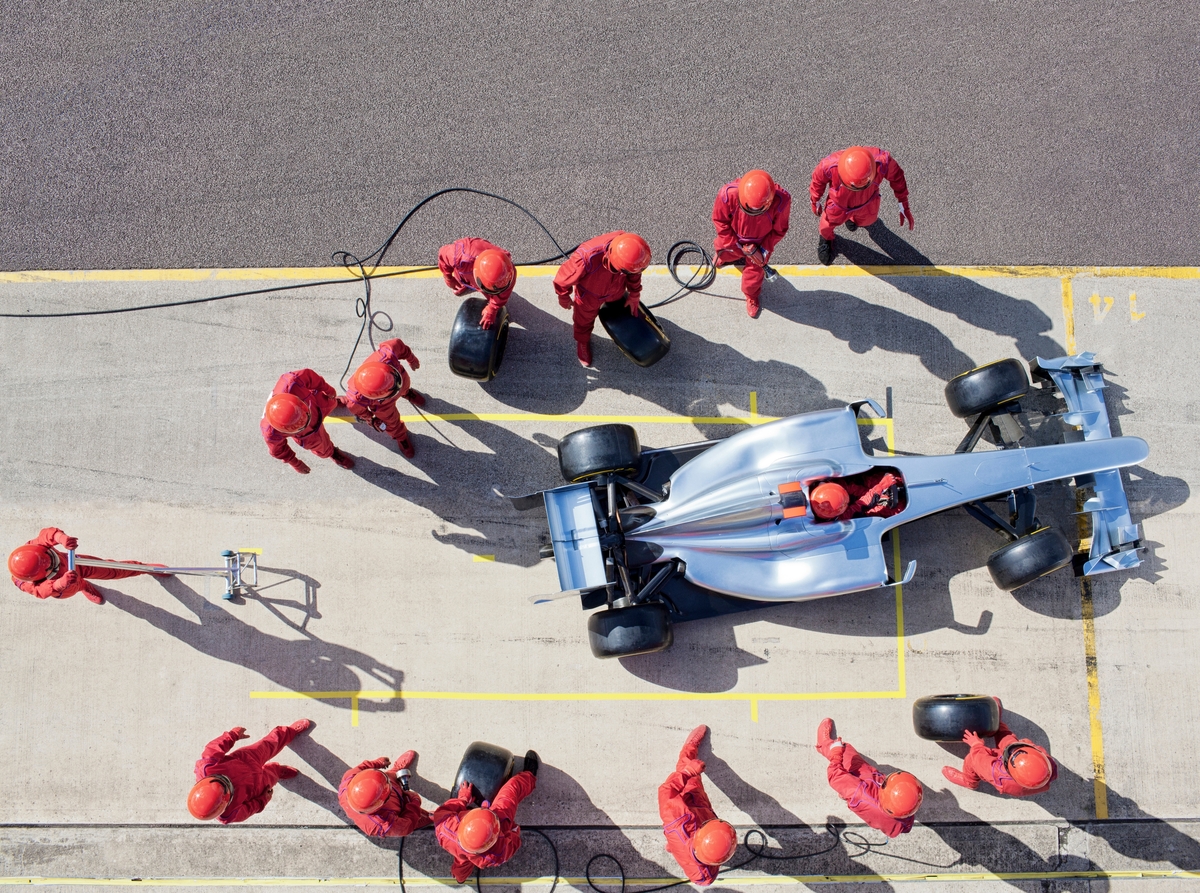 Calculating Average Speed
When it comes to Formula 1 (F1), speed is one of the important essentials to win the race. F1 cars can go up to 350 km/hour within seconds on long straight sections in a circuit. During the entire race, drivers make laps on the circuit. Knowing their average speed gives them insight into driver performance, car efficiency and consistency of drivers during a race. The Singapore Grand Prix will feature 62 laps over the circuit.
Average Speed = Distance Covered / Total Time Taken
For example, taking Max Verstappen's lap time of 1 min 21 seconds from the first qualifying race in the 2023 Italian Grand Prix, Verstappen took 81 seconds to finish a lap of 5.793 km.
Verstappen's average speed = 5.793 km / 81 seconds
= 0.072km/s ≈ 259.2 km/h
The circuit length differs for each Grand Prix, so you and your child can practise calculating the average speed of their favourite driver for each race!
Calculating fuel-corrected lap time
Fuel is a critical component when it comes to F1 racing. To speed across the circuit with such power, F1 cars consume a lot of fuel. According to regulations, F1 cars can use a maximum of 110 kg of fuel for each race. The amount and weight of the fuel in the car affects the lap time of the driver. This is why teams often strategise the amount of fuel to use in order to maximise their performance.
It is estimated that using up 1 kg of fuel weight will cause cars to take about 30-35 milliseconds more per lap. When drivers use up some fuel after finishing a lap, this causes their cars to become lighter and their next lap to become faster. Hence, there is a need to calculate fuel-corrected lap time. First, we need to determine how much time the car will shave off in a lap.
To find out the amount of time the car gets faster with each lap = (amount of fuel used per lap) x (estimated time of delay)
Fuel-corrected lap time = original lap time – (the number of the lap)[(amount of fuel used per lap) x (estimated time of delay)]
While this is a general formula to use for calculating fuel-corrected lap time, lap time in reality is affected by car models, speed, and many other factors that can result in slight changes.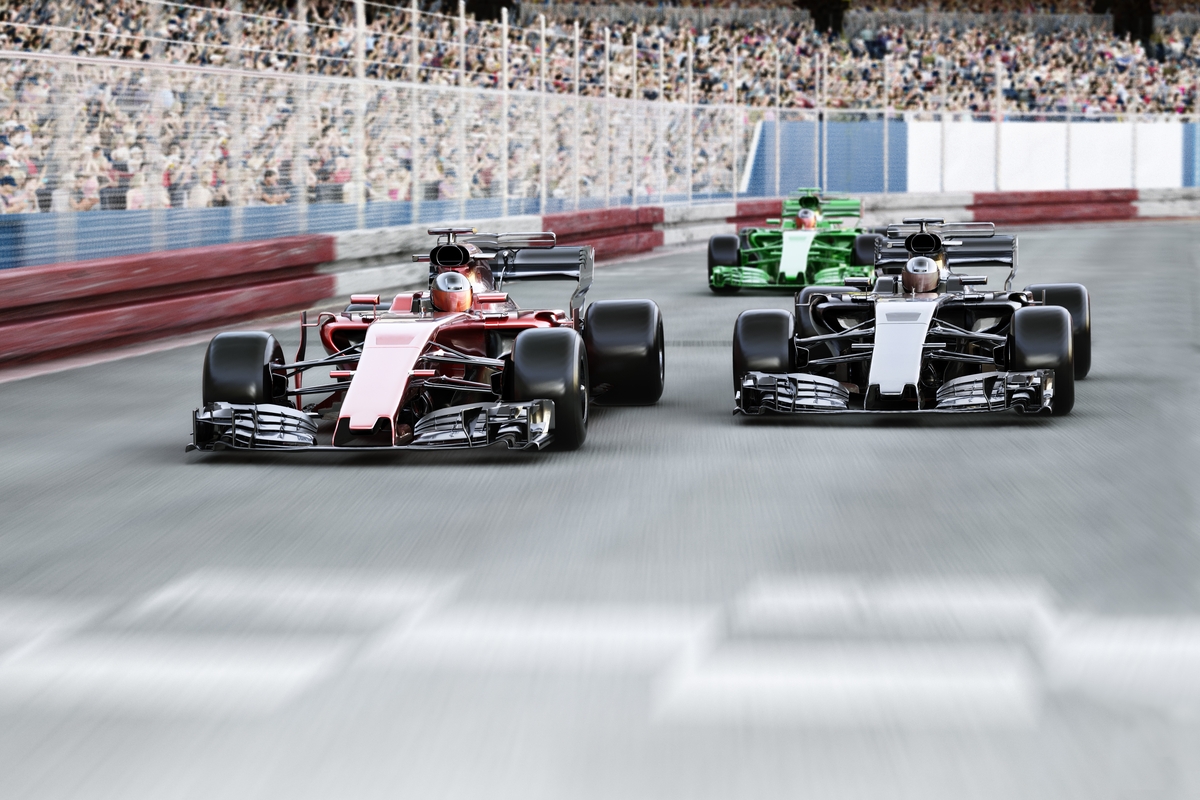 Calculating drivers' points
Watching F1 is often a heart-pumping experience as the audience cheers for their favourite drivers, especially towards the end as the winners are revealed. The position which the drivers finish the race in is important, as it decides how many points they get. The better the position, the more points a driver will net.
At the end of the Championship, the points for drivers as well as teams will be totalled. The driver and team with the highest number of points will win the titles of World Drivers' Champion and Word Constructors' Champion respectively.
With a total of 22 Grands Prix this year, drivers have plenty of chances to win points. So, how do you calculate the score? Let's first understand how the current F1 scoring system works.

Drivers who finish in the top 10 of a race are awarded with points based on their positions. In addition, the driver that achieved the fastest lap in the race gets 1 point, provided that they are also in the top 10 position.
Sprint races are a shorter version of the main race. They are over 100 km long, compared to 305 km for the usual race. Sprint races also award points to drivers, and the winner gets to start in the first position, also known as the pole position, in the main race.
As you follow the F1 season with your child, calculate your favourite driver's current points by looking at their race positions, sprint positions, and how many times they were awarded the fastest lap award.
Let's calculate Sergio Pérez's current points in 2023, for example: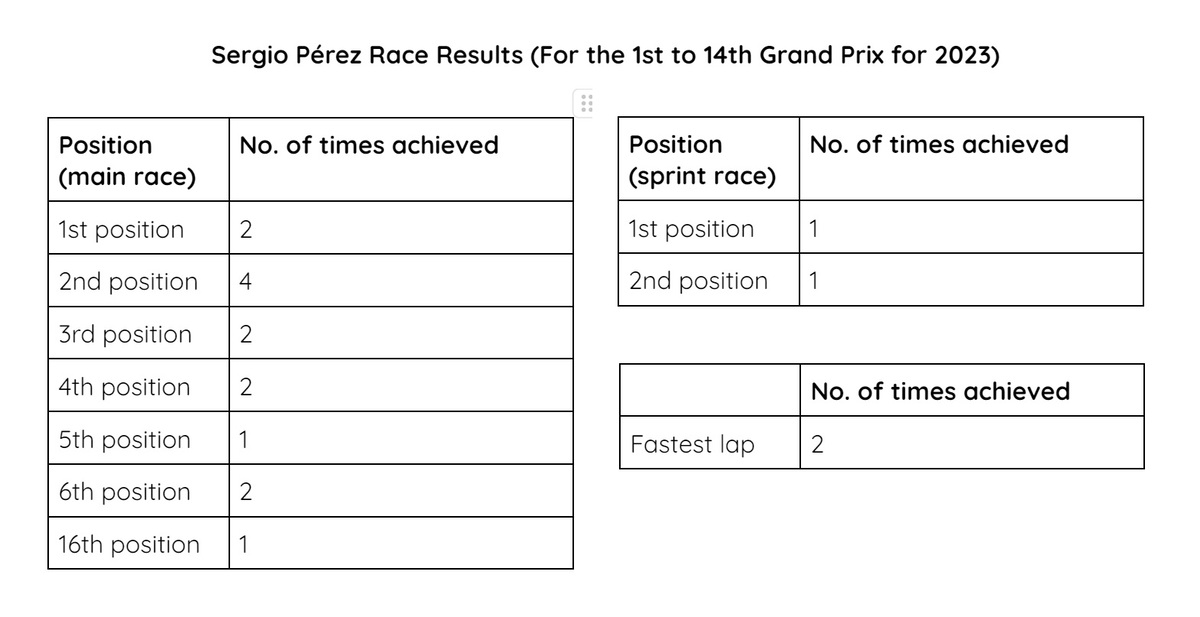 Pérez's points from the main race = 2(25) + 4(18) + 2(15) + 2(12) + 1(10) + 2(8) + 0
= 50 + 72 + 30 + 24 + 10 + 16 + 0
= 202
Pérez's points from sprint races and fastest lap = 1(8) + 1(7) + 2
= 15 + 2
= 17
Pérez's current points in total = 202 + 17
= 219
Gear up for math learning with Spark Math
A look into F1 shows just how important math can be in the world of sports. As we rev up for a weekend of unforgettable racing action, bring some math in during the race and show your child how math can be found even in thrilling sports like F1!
To help your child stretch their potential and master more math skills, try a free trial class with Spark Math! Looking for more sports math? Check out the rest of our Math in Sports series on our blog: