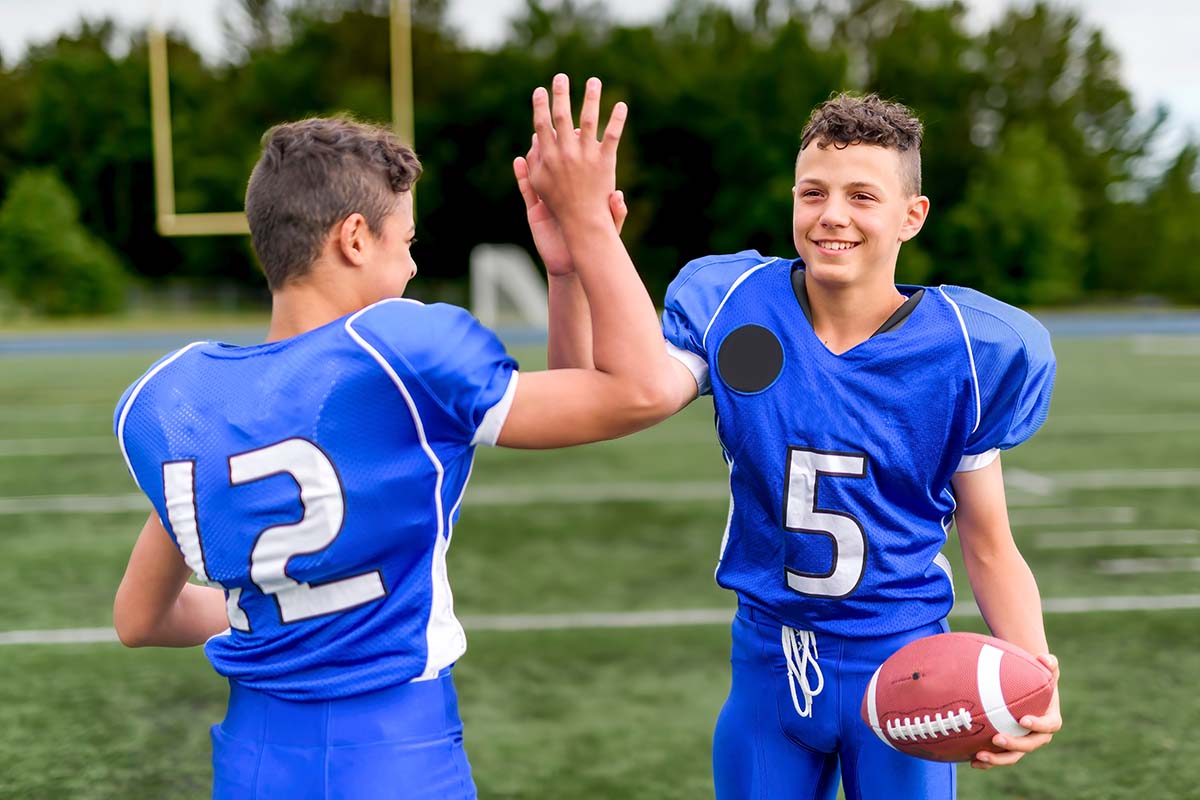 Hutt! Hutt! Hike! Autumn brings (American) football, the USA's most popular sport, back with vengeance for all the excited fans. With the start of a new season, parents and their kids will want to track their favorite superstar's stats or get some help when picking their fantasy football team. Spark Math by Spark Education is back with our Math in Sports series to throw a touchdown to all our football fans out there. Don't fumble the math and stick with us and enjoy "Math in Sports: Football and Fantasy Football Math for Kids"
The Math of Important Football Offensive Stats
A powerful offense is key for teams to control the ball and the scoreboard. When it comes to statisticians, fantasy football fanatics, and super fans, these are the numbers they look to to see how their favorites or performing.
Rushing, Receiving, and Passing Yards
Let's start with the basics of gaining yards on offense with rushing, receiving, and passing. To be more specific, we will look at Total Rushing, Receiving, and Passing Yards over a season. These will be some of the simplest stats we look at, but sometimes simple is the most important.
How to Calculate Rushing, Receiving, and Passing Statistics
Addition! To get the total passing yards of a quarterback, we add together the total number of yards he threw in each of the 16 games during the season.
For the 2022 NFL Season, Patrick Mahomes led the league in passing yards. We will add together his total passing yards for each game to get the total.
360+235+262+249+292+338+423+446+331+329+320+223+352+336+224+328+202=5,250 yards
This same method can be used to calculate Total Rushing Yards for running backs and Total Receiving Yards for wide receivers.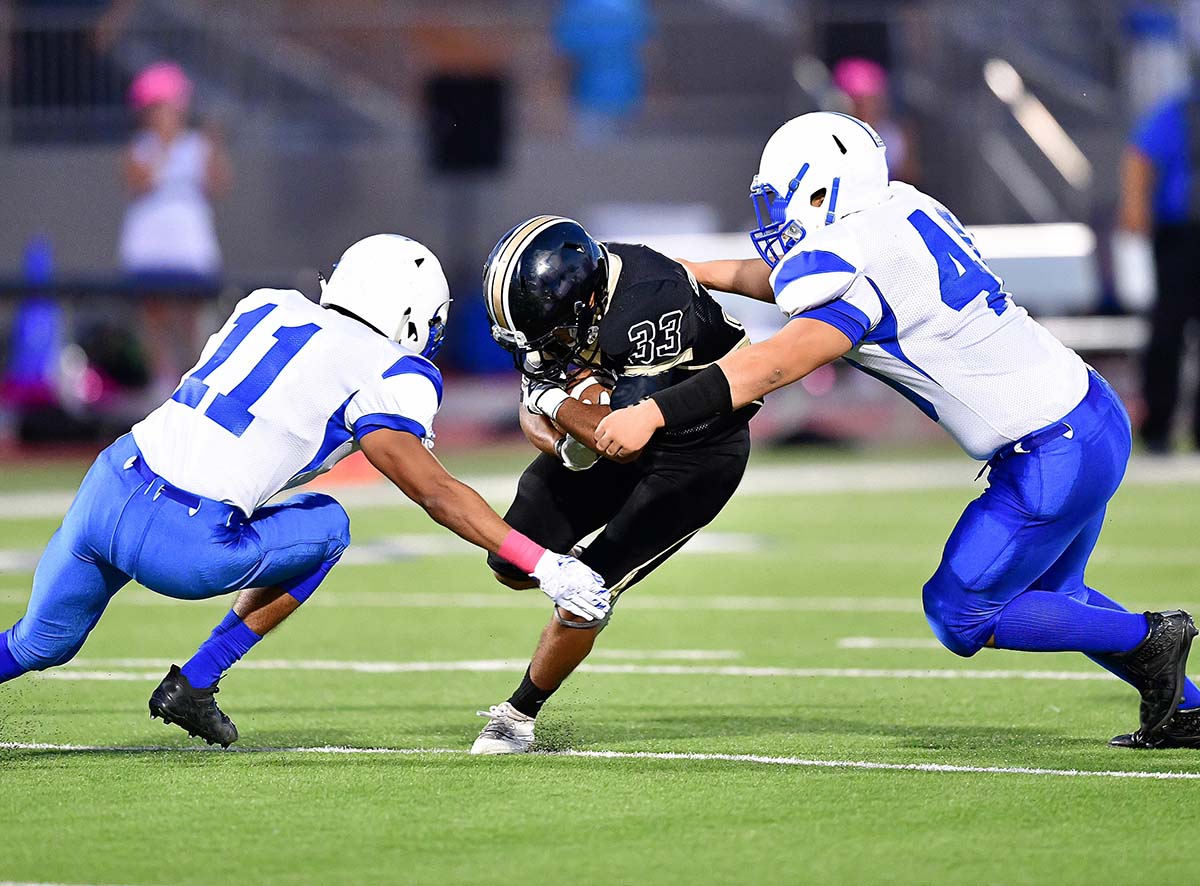 BONUS MATH! Yards Per Attempt or Yards Per Game
We can do something fun with total yardage to get another very valuable stat: Yards Per Throw (Quarterbacks), Yards Per Carry (Running Backs), and Yards Per Reception (Wide Receivers). For this, we need to use Division.
Josh Jacobs led the 2022 NFL Season with 1653 rushing yards on 340 rushing attempts. By dividing 1653 by 340 we get his Yards Per Carry. 1653/340= 4.86 Yards/Carry.
Justin Jefferson led the 2022 NFL Season with 1809 Total Receiving yards. To find his yards per game, we would divide 1809 by the number of games 17 to see his Yards Per Game. 1809/17= 106.411 Yards/Game
Note Fantasy Football Players: Yards Per Attempt will be a more valuable stat to predict future success than Yards Per Game
Next time your child has a favorite offensive player, encourage them to use math to see how great that player has been and will be!
Adjusted Yards Per Attempt (ANY/A)
This statistic is considered are more advanced one when compared to something like total yards. This specifically measures a quarterback's average yardage per passing attempt while also accounting for things like touchdowns, sacks, and interceptions. This is a comprehensive look at a quarterback's overall performance in a season or over an entire career.
How to Calculate Adjusted Yards Per Attempt (ANY/A)
We will be using Addition, Subtraction, Multiplication, Division, and Order of Operations to calculate ANY/A
Here is the formula: (Passing Yards-Sack Yardage+(20 x Touchdowns) – (45 x Interceptions)
/(Pass Attempts+Sacks)
We can break this into a few parts to get to the final result. For the example, we will take the leader from 2022, Tua Tagovailoa
3584 Passing yards – 163 Sack Yardage + (20 x 25 touchdowns)= 3885 -(45 x 8 interceptions)= 3525
3525/(400 pass attempts+21 sacks)=8.372 ANYA
Note to Fantasy Football Players: While ANY/A is a great stat for QBs, Tua has a risk of injury and is a high-risk high-reward player for the2023 season.
For 3rd Grade students and above, ANY/A should be well within their ability to calculate. This can be a fun challenge for kids who want to show off some advanced statistical knowledge about their Go-To QB.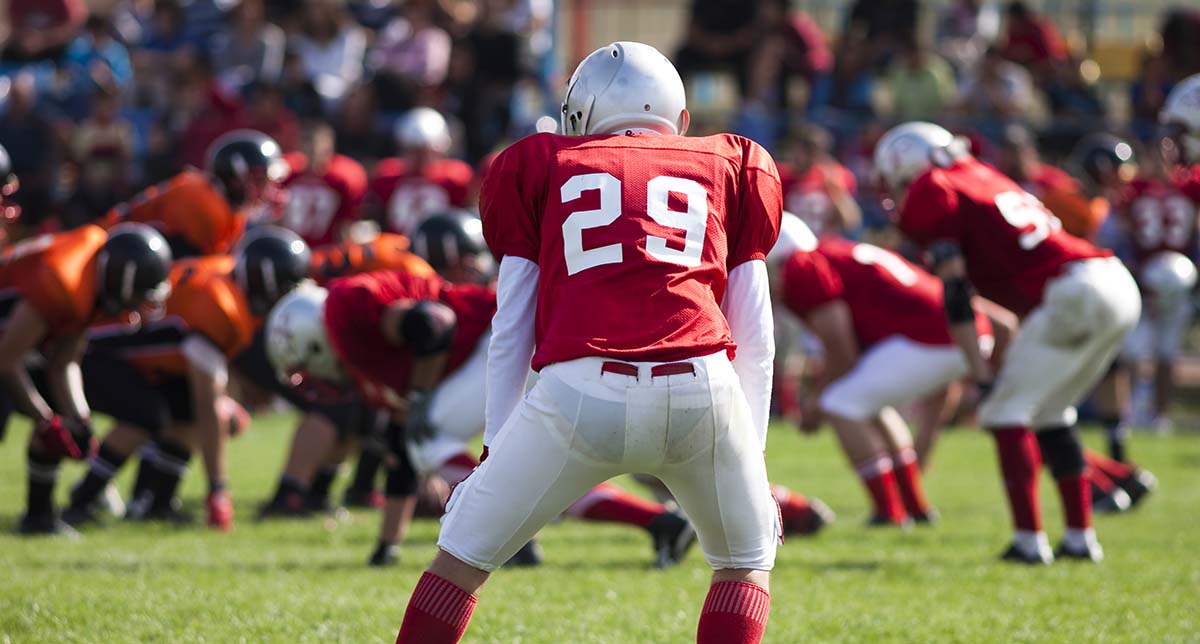 The Math of Important Football Defensive Stats
t is often said that the "best offense is a good defense" and while the defense is not as glamorous as the glory hogs on offense, they are essential to a successful team. Stifling defenses can sometimes feel like a relic of the past, with high-powered offenses seeming to drive championships. Let's take a dive into the math and statistics that define an elite defense.
Points Allowed Per Game
What is the defense's main job? Stop the opponent from scoring. It only makes sense that the most important defense stat is points allowed per game. At the end of the day, if a team can't score points, they cannot win. A defense that holds the other team to a low score makes it easier for their offense to win because they ultimately have less points to score.
How To Calculate Points Allowed Per Game
For this, we will need addition and division.
To begin, we will need to get the score of the opponent for each game and add them all together. Then we will divide that final number by the number of games.
In this example, we will look at the 2022 leader in this category, the San Francisco 49ers.
19+7+11+9+15+28+44+14+16+10+0+17+7+13+20+34+13=277 total points allowed
277/17=16.3 points allowed per game
Note to Fantasy Football Players: While this stat can show the effectiveness of a defense, it may not translate to winning. The Jets had the second-best points allowed per game and didn't make the playoffs due to an ineffective offense.
The 49ers were in the semi-finals and showed that a strong defense can define a team's success. Most students from about 2nd Grade can find their favorite team's points allowed per game. Though some might not be too happy with the results!
Sacks
Some of the most fun highlights in football are seeing the quarterback get sacked. Getting pressure on the quarterback can completely shut down any offense and lead to turnovers. Teams recording a lot of sacks show that they have talented players get passed the offense and a strong defensive scheme from the defensive coach. Let's see who is hitting the QB the most!
How to Calculate Sacks
For this, we will be using addition.
The art of sacking the QB is a complex undertaking. Luckily, calculating the number of sacks is straight forward.
We need to add together the number of sacks from each game to get the total sacks on the season.
The Philadelphia Eagles led the 2022 NFL Season in sacks and will be our example.
2+7+6+6+7+6+3+4+3+3+6+0+1+4+9+2+1+=70 Sacks
The Eagles were a force on defense last year and blew up the backfield 15 more times than the next closest team. 1st Grade kids and up should be able to now see how many sacks their team had.
BONUS MATH: Individual Player Sacks Per Game
We often think of the defense as a complete unit, but valuable players can stand head and shoulders above the rest. Let's take a quick look at sacks per game.
How to Calculate Individual Player Sacks Per Game
We need addition and division.
Nick Bosa of the San Francisco 49ers led the league in 2022 for sacks. If you remember from before, the 49ers as a team gave up the least points per game as well and Bosa played a large role. He had a total of 18.5 sacks.
To get sacks per game we take his total sacks, 18.5 and divide by 17 games. 18.5/17=1.08 sacks per game
That means every game Bosa was getting to the QB at least once!
Note to Fantasy Football Players: Sacks normally award a full point on defense and can be a reliable way to measure consistent defensive success.
Final Thoughts on Football and Math
With football right around the corner, it is the perfect time to brush up on math and stats that make this game interesting. Both the offense and defense play a huge role with the offense statistics being more focused around individual players to measure success. Are you interested in more math in sports? Check out our other blogs and stay tuned for Basketball Math coming up!
Here at Spark Math By Spark Education we believe in the value of helping children discover math in their daily life. If you're looking for more sports math, check out of our Math in Sports baseball blog! For our online courses that help to master these math skills and all the other essentials from Kindergarten to 6th Grade, try a free trial class now!