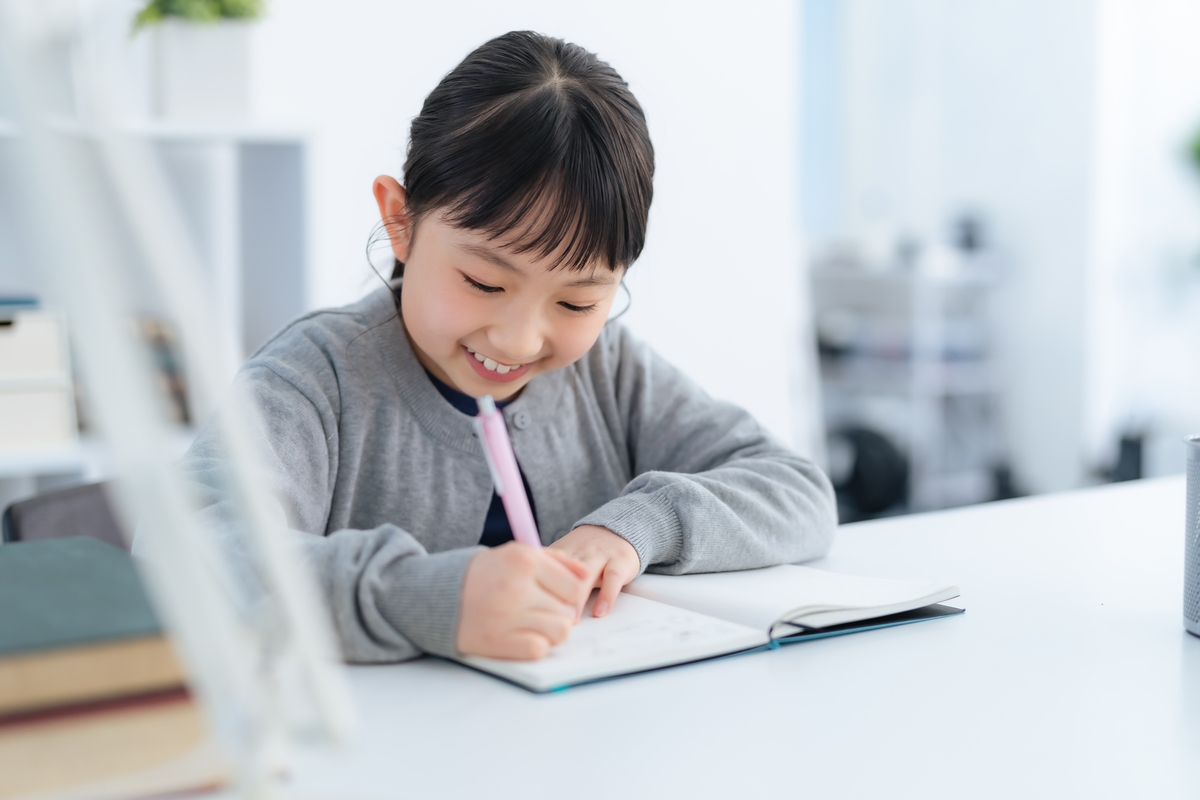 Parents, how many times have you seen your child's math score get pulled down due to careless mistakes?This is especially true when students go to upper primary and need to integrate more concepts and procedural skills as they solve more advanced math problems. Since more advanced math problems often involve multi-steps to arrive at a solution, and given that these steps are all interconnected, students only need to make one inaccuracy to result in getting the entire problem wrong. This can be frustrating for both parents and children.
Understanding what the common P4 math mistakes are and how to avoid them is a good way to prevent losing marks. To help your child avoid such mistakes, we've started the "Top 3 Common Math Mistakes to Avoid" series. Hear from Teacher Julius from the Spark Math teaching team, who shares valuable tips and tricks on avoiding careless math errors. Here are the top 3 common mistakes in P4 and how children can avoid them!
Common Mistake #1: Conversions of Fractions to Decimals (involving rounding decimals)
Decimal is one of the major new topics students learn in P3. A decimal is a number that consists of a whole and a fractional part. A decimal notation includes a decimal point. For questions relating to decimals, students should pay close attention to the decimal point. They should be familiar with converting decimals to fractions and vice versa. Conversion of decimals is a common type of question that usually comes up in tests and exams.
Common Mistake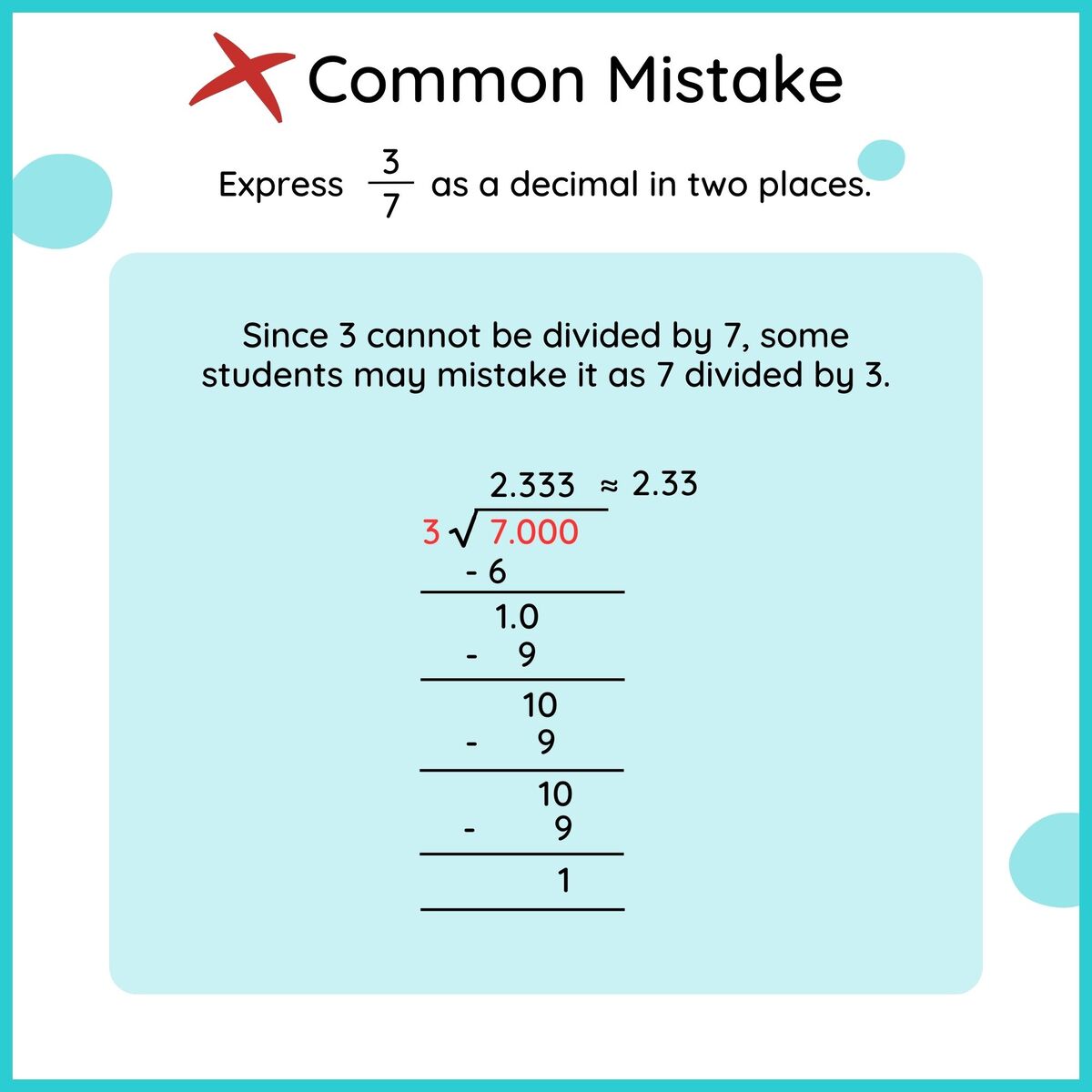 Solution
How to prevent this mistake
For questions that involve the conversion of fractions to decimals, it tests students' knowledge of both concepts. Students will need to tap into their understanding of both decimals and fractions. One important tip to remember is the line in a fraction can be understood as "divide by". Therefore, the numerator is to be divided by the denominator.
Common mistake #2: Assuming Values on Number Line
A number line is a common pictorial representation that can be seen in math questions. It is a straight line that visually represents a number on each point. Number lines can be used to represent various types of numbers, such as integers, fractions, decimals, and more. They are useful in helping students visualise numbers and add/subtract or multiply/divide numbers more easily. This is also one area where students may make careless math errors.
Common Mistake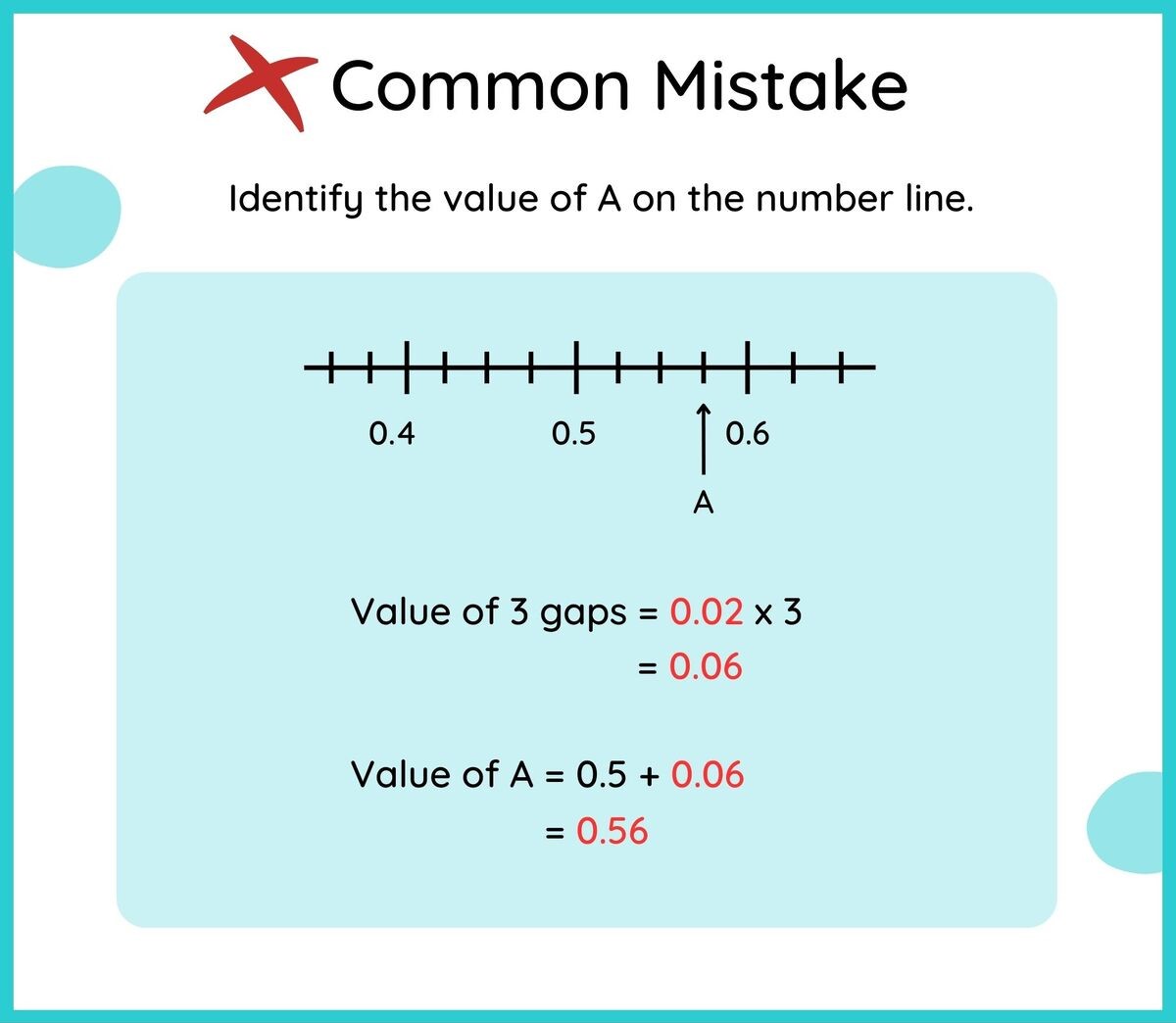 Solution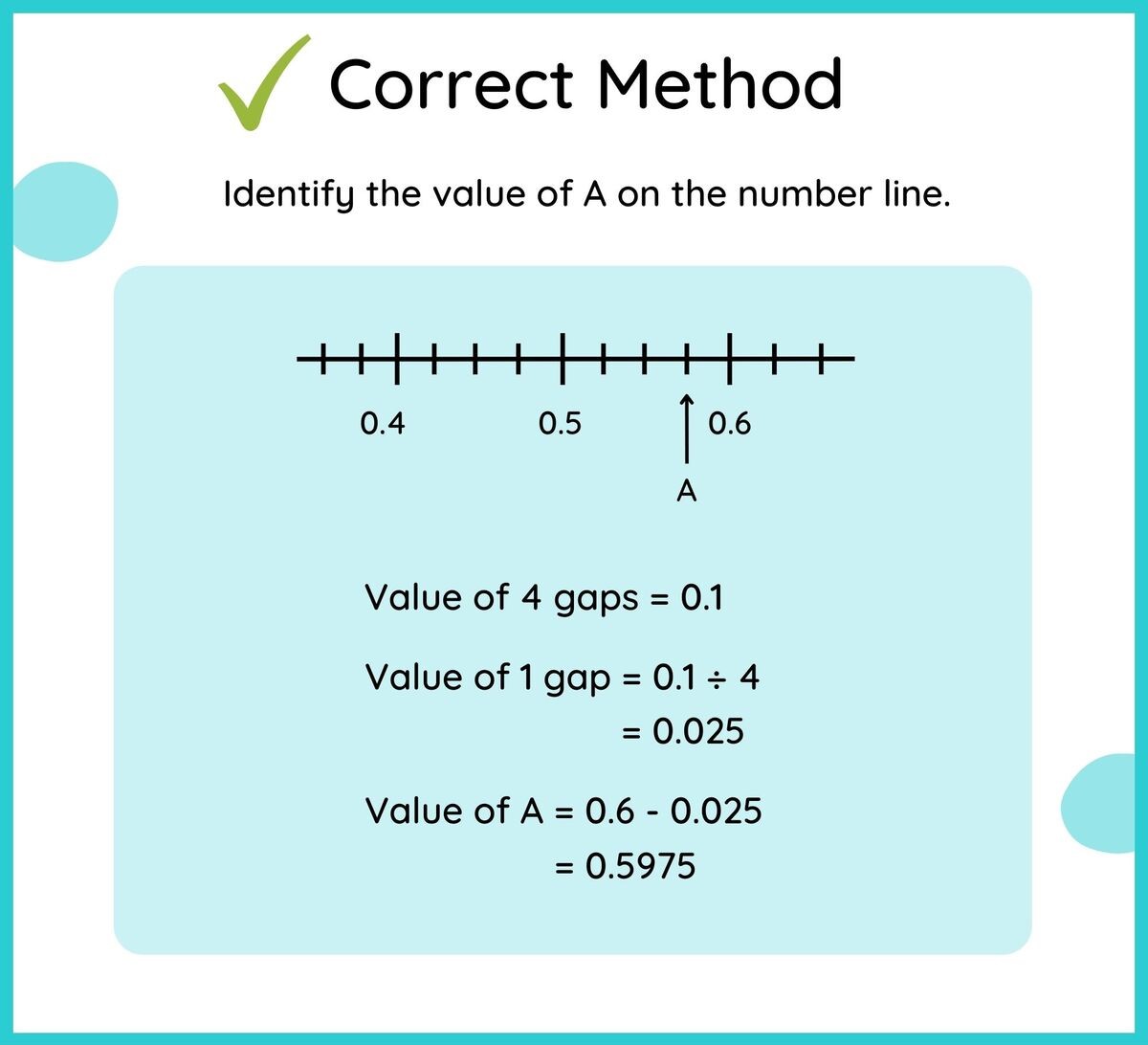 How to prevent this mistake
Questions like these test students' ability to add, subtract, multiply and divide decimals. At higher levels, not every unit on the number line will be marked with a corresponding value, and students are expected to identify the value of unknown units on the number line. Students may be used to number lines with 5 gaps in between two intervals, and incorrectly assume each gap has a value of 0.02 here. This is where it leads to a math error, as the number line in this question actually has only 4 gaps and not 5.
When doing a number line question, always remember to check the value at the two intervals and the number of gaps in between. Identifying the value of the unknowns is crucial, so this is a step all students should make sure to do.
Common mistake #3: Finding time in 24-hour clock
P4 is the first time students are introduced to the idea of a 24-hour clock. For such time-related questions, they commonly ask about time differences between countries. To tackle this type of question, students should get familiar with calculating time differences and what to look out for in the process.
Common Mistake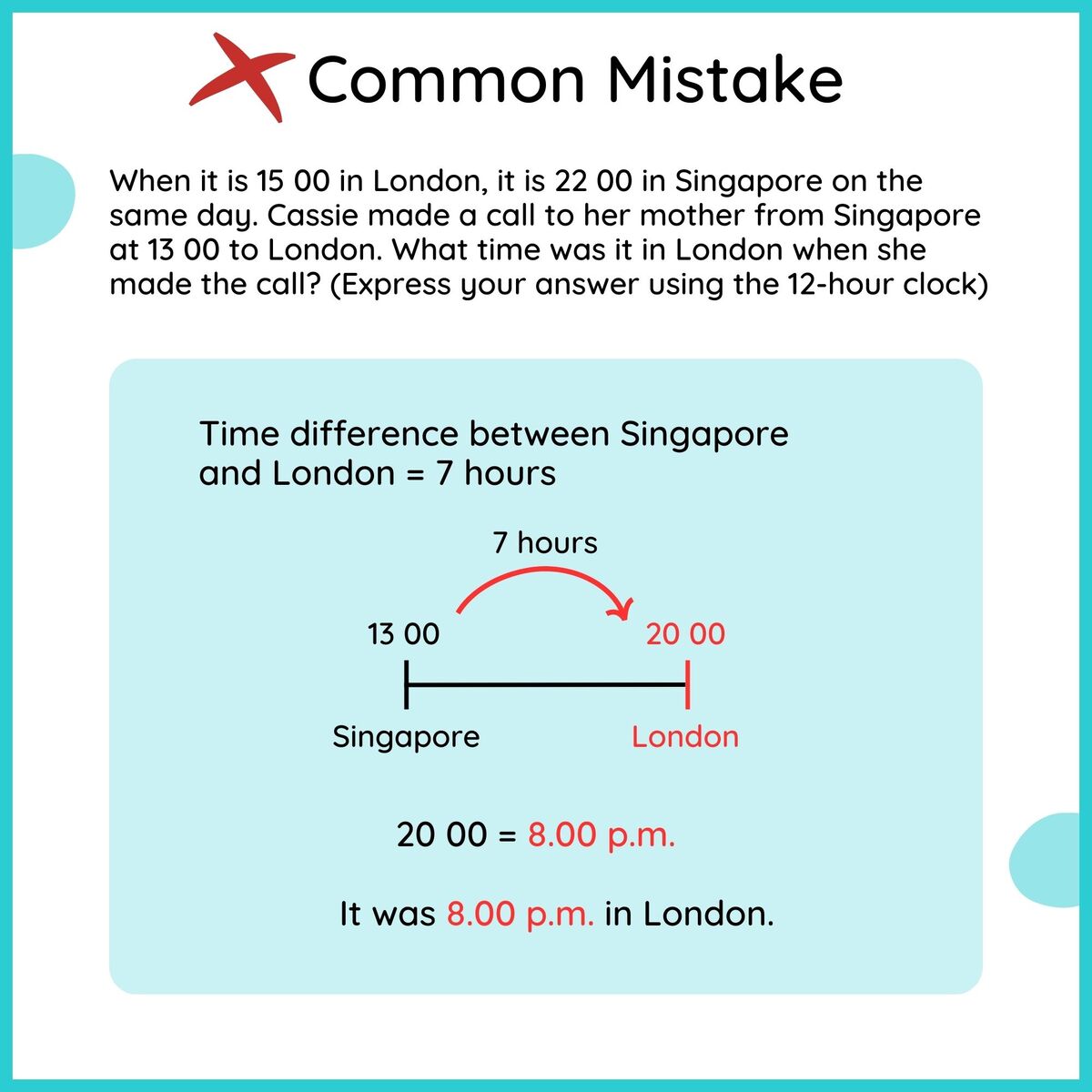 Solution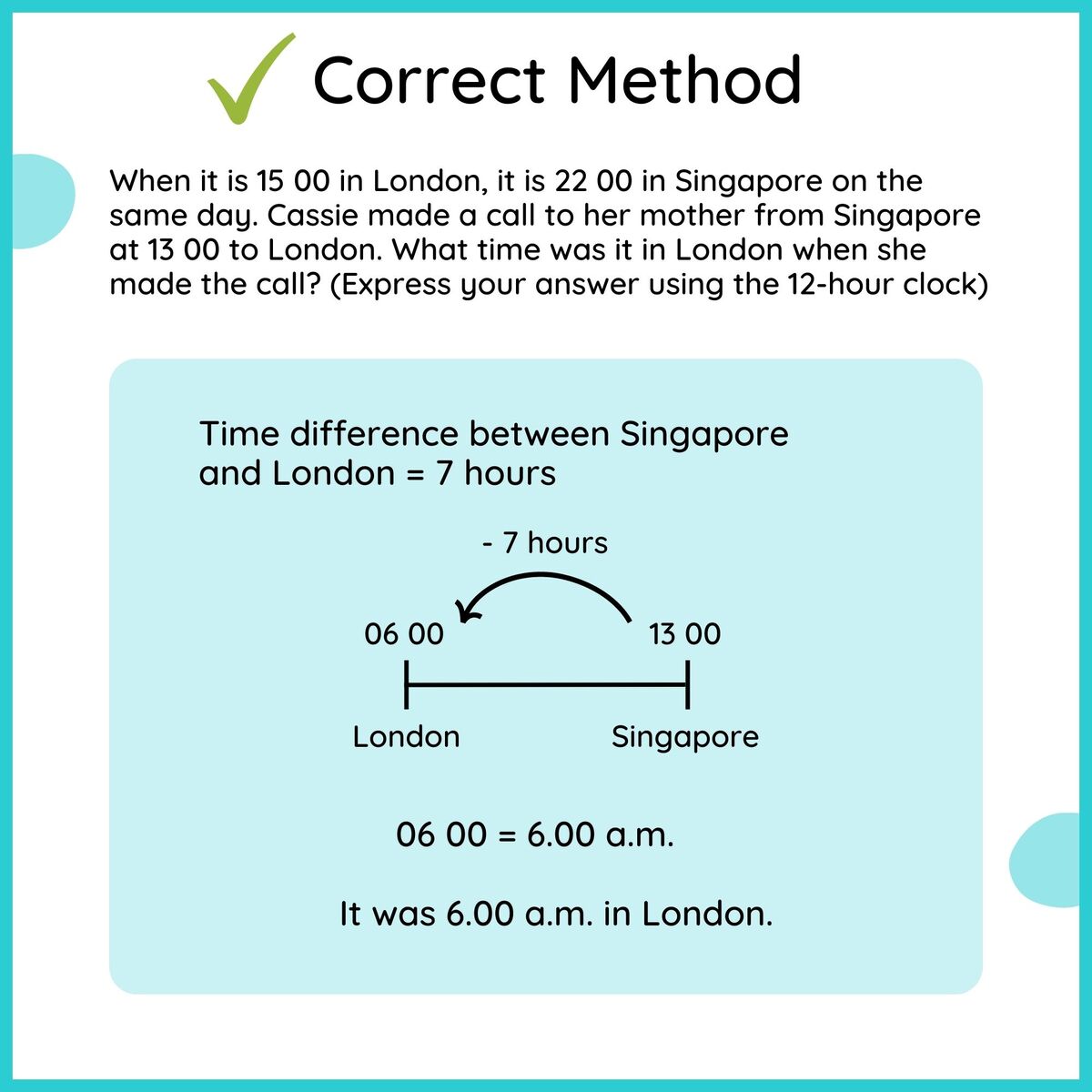 How to prevent this mistake
Understanding the word problem and knowing what steps to take is important here. Let's take a look at the question above in detail. Since the time in London is 13 00 on the same day compared to 22 00 in Singapore, London is behind Singapore by 7 hours. If we are to find the time in London, we should subtract the time difference and count backward. The key here is to interpret the question correctly and ensure that students take the proper steps to calculate the answer. Drawing a timeline will also help students to visualise and understand the question better.
Overcome mistakes and become a math ace
At P4, your child may still be adjusting to the upper primary math curriculum. Questions are more complex and require more steps to complete. Students should also master techniques such as drawing number lines to help visualise word problems. With practice, students can learn the common mistakes that appear in P4 math topics and keep an eye out for them. These tips from Spark Math will give students the boost they need in their revision to help them achieve their goals.
Check out other posts in our Top 3 Common Math Mistakes and How to Avoid Them series:
At Spark Math by Spark Education, we believe that every child has the potential to excel in math. Take a look at our programmes and learn more about how Spark Math develops children into confident and motivated math learners! To get started, sign up for a free trial class.